Eat, Drink, Dance, Repeat: The Ultimate Bangkok Nightlife Guide You Need!
     What's up, fellow wanderers! Eager to explore the electrifying nightlife of Bangkok without breaking the bank? You're in luck! We've got you covered with this fun, casual, and energetic guide to the city's top party spots for young city explorers and budget-savvy travelers.
     From hidden speakeasies to epic rooftop bars, wild nightclubs, wallet-friendly options, and unique experiences, there's something for everyone in this pulsating metropolis. So, let's get thils party started, Lub d style! What's more, Lub d Bangkok Siam is located right in the heart of the city, in the intersection of Silom and Sukhumvit BTS lines making it easy to get to most of these places using public transportation.
Secret Speakeasies to Unleash Your Inner Detective
     The Iron Fairies: Step into a magical world where pixie dust and killer cocktails collide. This whimsical hideout is perfect for a night of enchanting adventures. Iron Fairies' captivating atmosphere is created with unique decor, featuring hanging metal fairies and dim lighting that adds a touch of mystery. Iron Fairies is re-opening its doors on March 27th on Sukhumvit 39.
     Rabbit Hole: Venture into the depths of this mysterious, chic burrow for a Wonderland-esque experience. Enjoy creative concoctions that'll send your taste buds on a wild ride! The Rabbit Hole Thonglor is designed to transport you into a world of sophisticated elegance, with an intriguing atmosphere that keeps you guessing what's behind every corner.
Budget-Friendly Nightlife Options for the Thrifty Party-Goer
    Cheap Charlie's: This legendary, wallet-friendly outdoor bar offers affordable drinks in a lively atmosphere. Meet fellow travelers and swap stories over a cold beer or cocktail. Cheap Charlie's is a beloved institution among both locals and tourists, known for its laid-back vibe and friendly service. Don't miss out on their daily specials and quirky decor!
     Rambuttri Road: Near the famous Khao San Road, Rambuttri Road boasts a more relaxed vibe, with plenty of budget-friendly bars and street food options. Enjoy a night of fun without overspending! This tree-lined street is ideal for bar hopping and people-watching, providing a more chilled-out alternative to the bustling Khao San Road.
Bangkok Rooftop Bars with Killer Views
      Sky Bar at Lebua: Conquer the 64th floor of Lebua State Tower for jaw-dropping skyline views. Savor swanky cocktails as the city's lights twinkle below. This world-famous rooftop bar has been featured in movies and is known for its iconic golden dome. Enjoy the luxurious atmosphere and attentive service while taking in the stunning surroundings.
      Cielo Sky Bar & Restaurant is an elegant rooftop destination offering breathtaking city views.  You can enjoy delicious food, and creative cocktails, accompanied by the chic vibe and a breathtaking view of the city from the 46th floor. It's the place to be for a memorable night out with friends.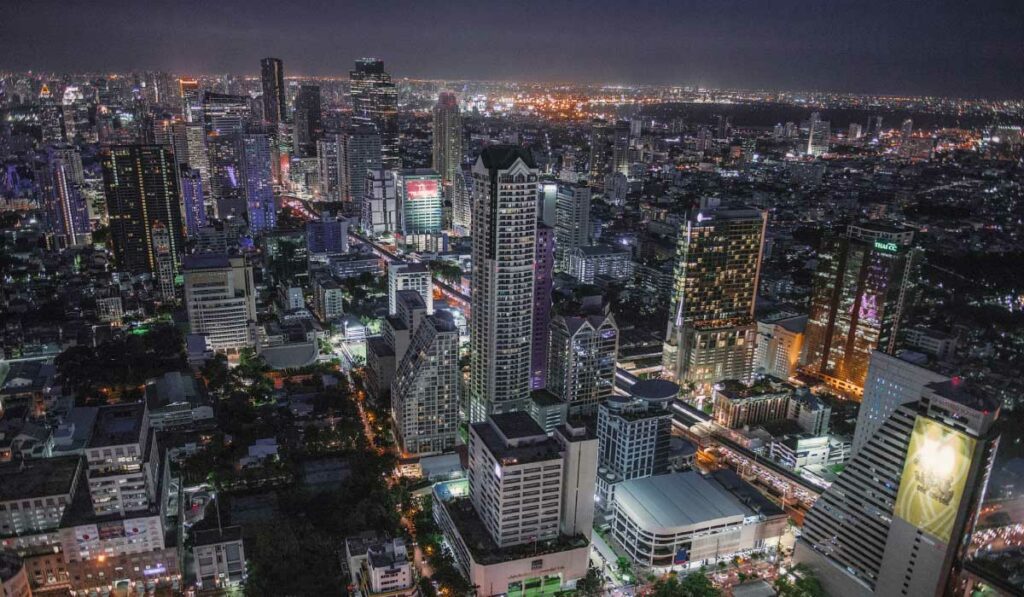 Wallflowers Upstairs: A charming restaurant and rooftop bar in Bangkok's old Yaowarat neighborhood that captures the enchanting charm of classic architecture and the mesmerizing evening sky. Designed and decorated by renowned Thai architect and owner, Lucksan-Natthapatch Suriyakamphon this rooftop gem offers delightful dishes and drinks to accompany the breathtaking views.
Nightclubs to Dance Your Heart Out
     Sing Sing Theater: This visually stunning and theatrical nightclub is inspired by the Far East and features captivating live performances, DJs, and themed nights. Let yourself be transported to a world of intrigue and opulence as you dance the night away in this one-of-a-kind venue.
    Levels Club & Lounge: Party like a rockstar at Levels, Sukhumvit's multi-level club. With international DJs and live acts, you're in for a night of unforgettable fun. Levels boasts an upscale interior, complete with stylish design elements and a variety of music genres across its different levels. This club is known for its lively atmosphere and unique events, making it a must-visit for anyone looking to experience Bangkok's nightlife.
Live Music Venues for the Soulful Explorer
     Saxophone Pub: Groove to the smooth sounds of live jazz and blues at this cozy, welcoming joint. Mingle with fellow music lovers as you enjoy good food and great vibes. Saxophone Pub has been a staple in Bangkok's live music scene for decades, attracting both local and international talent. The warm, inviting atmosphere and eclectic mix of patrons make it an ideal spot to unwind and connect with others.
     Brown Sugar: A staple of Soi Nana Chinatown since 1985 it is known as one of Bangkok's premier jazz bars for a reason. Brown Sugar offers up classic Western comfort food and cocktails, as well as live shows by talented local artists.
Unique Nightlife Experiences
     Tep Bar: Experience traditional Thai culture in a modern setting at this stylish bar. Enjoy live Thai music, sample local spirits, and learn about the fascinating world of Thai liquor infusions. Tep Bar is the perfect place to immerse yourself in the local culture while enjoying a relaxed and sophisticated atmosphere.
    Liquid Lab Bar: Liquid Lab is not what you'd call a mainstream bar, they are located in a discreet spot in Bangkok's On Nut Area, built inside a refurbished shipping container and are primarily a distributor of spirits. The atmosphere is chill cosy and the staff craft excellent cocktails.
Night Markets for an Authentic Bangkok Experience
     Jodd Fairs: This bustling market is right at MRT Phra Ram 9 station. The market is full of delicious street food where both locals and international travelers hang out. With the energetic atmosphere, live music, variety of goods to buy, and plenty of cuisines available, it is a must to hang out here once.
     Asiatique The Riverfront: This unique riverside market combines a night bazaar with a mall, offering a diverse range of shopping and dining options. Stroll along the picturesque Chao Phraya River and enjoy the lively atmosphere.
     Chatuchak Weekend Market (Friday nights): The famous Chatuchak Weekend Market comes alive on Friday nights and remains open till late, offering everything from clothing and accessories to homeware and souvenirs. This sprawling market is a shopper's paradise, teeming with hidden treasures waiting to be discovered.
      As you stroll through these lively night markets, you'll discover the heart and soul of Bangkok – its vibrant street life, mouth-watering cuisine, and friendly locals eager to share their city's treasures with you.
     Silom Soi 2: This bustling street is home to a variety of popular gay bars and clubs, offering an inclusive and welcoming atmosphere for everyone. Dance the night away at DJ Station, or enjoy a more laid-back evening at Telephone Pub.
     Stranger Bar: Located in Silom Soi 4, this vibrant and colorful bar is known for its drag shows, friendly staff, and creative cocktails. Stranger Bar is a must-visit for anyone looking to experience Bangkok's diverse and inclusive nightlife scene.
Art Galleries to Ignite Your Creative Spirit
     Bangkok Art and Culture Centre (BACC): This contemporary arts hub hosts a variety of exhibitions, performances, and workshops, serving as a vibrant cultural space in the heart of the city. BACC is open until 9 PM on weekdays, making it perfect for an evening of artistic exploration.
     MOCA (Museum of Contemporary Art): Showcasing an impressive collection of Thai modern art, MOCA is a must-see for art enthusiasts. The museum stays open until 6 PM, so plan an afternoon visit to fully appreciate the exhibits.
     Gallery VER: Focusing on experimental and emerging artists, this intimate gallery is dedicated to showcasing innovative works. While Gallery VER's hours vary, it often hosts special evening events and openings, providing a unique late-night art experience.
    As you wander through these creative spaces, you'll find inspiration and a deeper appreciation for the vibrant artistic community that thrives in Bangkok. Don't miss the opportunity to explore these galleries during your stay, as they offer a unique glimpse into the city's thriving cultural scene.
     Bangkok's nightlife is a thrilling playground waiting to be explored, and our Lub d family is ready to lead the way! With options for every budget and taste, you can experience the best of Bangkok without breaking the bank. So, gear up, party people – it's time to make some unforgettable memories and forge lasting friendships in this captivating city! Whether you're seeking a low-key evening of live music, a wild night out on the dance floor, or a unique cultural experience, our party guide have you covered, and if you get hungry during your night out check out our top street food spots in Bangkok. Now, all that's left to do is grab your friends and dive into the vibrant world of Bangkok nightlife!