Travel like a local in Phuket, Thailand
     Phuket is a paradise island that attracts more than 12 million visitors every year (in the regular situation of course), so it's no wonder it remains at the top of many people's travel bucket lists. But if you're a visitor to Phuket, you might be looking to explore Phuket the way the locals see it, so here we have a list of interesting places for exploring Phuket the way the locals do.
     Check out our list for travelling Phuket like a local here!
Learn about nature
     The adventure tour in the mangroves forest in Tha Chat Chai Phuket Marine National Park Research, Mai Khao, in the north of Phuket is a place where you'll really learn a lot. You can kayak in the surrounding mangroves forest and learn more about the park by the park guide. On the way to the kayak deck, you can both see and hear the creatures here including small birds and insects flying around. You can also see how the local fishermen live along the waterway. It's an outdoor classroom for tourists and children. The mangrove forest trekking activity is open daily and you have to pay a small fee to support the Marine National Park Research.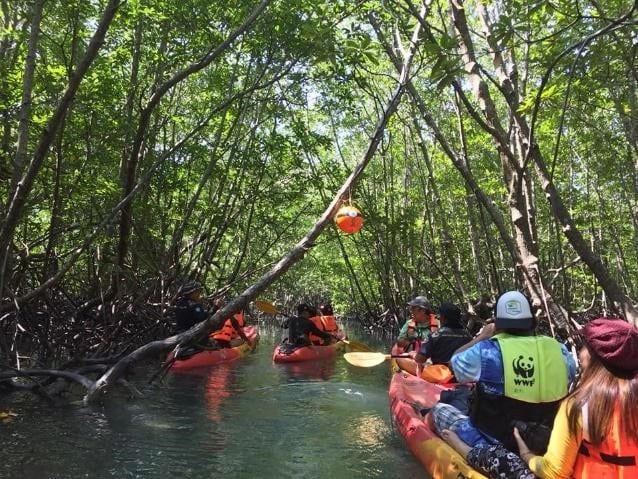 Head for culture
     The Phuket Vegetarian Festival is a famous annual event in every October to celebrate the Chinese Taoists' beliefs of not consuming meat or harming animals to purify their minds and bodies. This Chinese festival doesn't just dictate a strict vegetarian diet and wearing a white costume, but it's the period of abstinence whilst locals pray to the Nine Emperor Gods. During this period, the locals will have a full week of firecrackers, parades, piercings, and vegetarian food.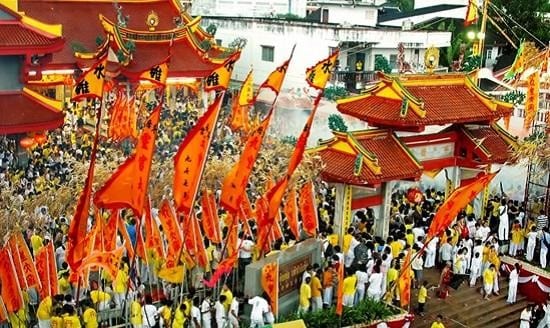 Don't just stay at the beach
      Let's go to see Phuket's charming old town. There are lots of attractive style shophouses and all located in the beautiful Sino-Portuguese architecture, one of the venues that makes Phuket Town so famous. Some of the old style buildings have been converted into bars, guesthouses and cafés. You'll also find shrines, temples (Buddhist and Chinese), public museums and the old local restaurant here.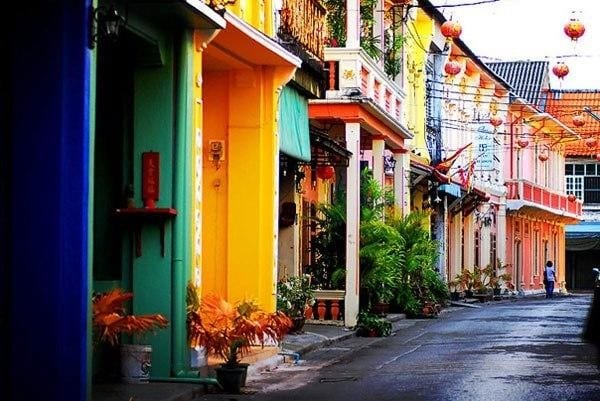 Head to the markets
     Fresh markets are a very important part of Thai social life. They are not only the place for shopping or dining destinations, but they also reflect local life in many ways and form as a cement that holds the Thai society together. Some of the famous local markets in Phuket are:
     Baanzaan market at Patong is where you can buy seafood from the fish section downstairs and the chefs in the food court on the 2nd floor will prepare it for you. You'll know for certain that it's super fresh!
     The Downtown Market: one of the oldest fresh markets in Phuket. The market is open almost 24 hours, and you can find vegetables, exotic and local fruits, meat and seafood, condiments and ready-made dishes here.
     Rawai Seafood Market at Rawai Beach, a local fisherman village. Here, you can buy some local seafood to take home or alternatively bring to a restaurant around ther cook for you!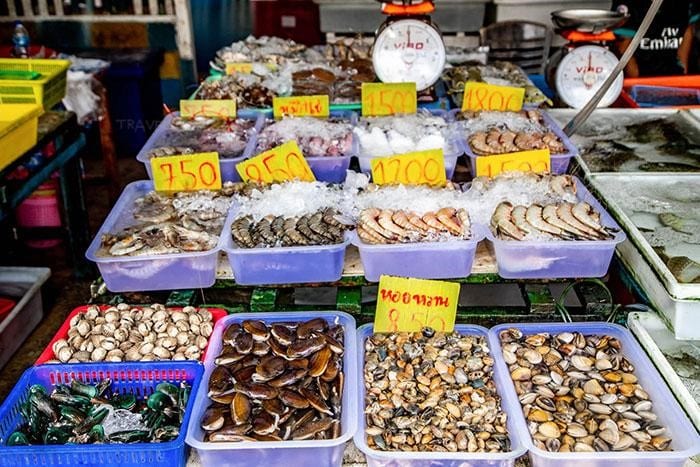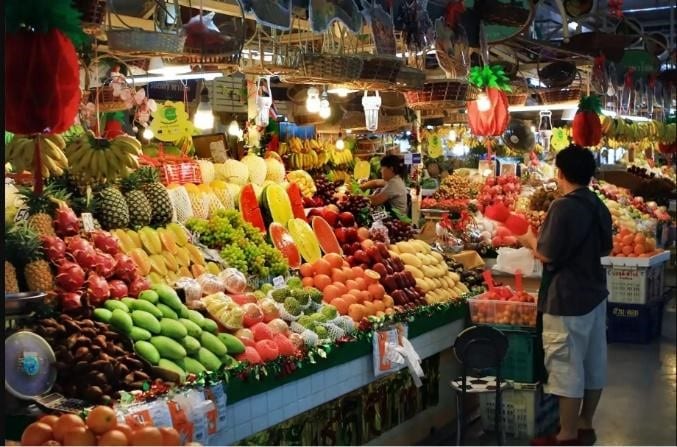 Try local food
     Received a 'Bib Gourmand' (friendly establishments that serve good food at moderate prices) rating from the new Michelin Guide, Mor Mu Dong Restaurant is a place where the locals are proud of. The restaurant is located at the east of Chalong district. The food is the reason why people come a long way to Mor Mu Dong. They serve a mix of Thai food, seafood and dishes which are Phuket specialties with real Southern Thai taste. You'll leave satisfied with the authentic Phuket local food experience for sure.
Lounge in the cafés
     After exploring the markets in Phuket, let's cool off a bit in the cafés.
     The Feelsion Café is a cool airy café in town with a retro industrial style of decorating ambiance. They offer it all: from a café's food and beverage menu, Thai food, fusion food and Phuket dishes as well. Moreover, they serve ancient Thai desserts like dried rice balls, fried dried fish with watermelon, Gleeb Lam Duaen or Thai shortbread cookies, Chaw Muang or thai steamed dumpling, Sanay Chan or Nutmeg (yellow sweetmeats) and the one of 9 auspicious Thai desserts – Thong Ek, the Wheat flour dumplings with egg yolks top with a gold leaf with reasonable price. Good vibe, fantastic food, cold drink and what else?….. great music, of course!!
      You can enjoy jazz and live music here every night, starting from 8 pm.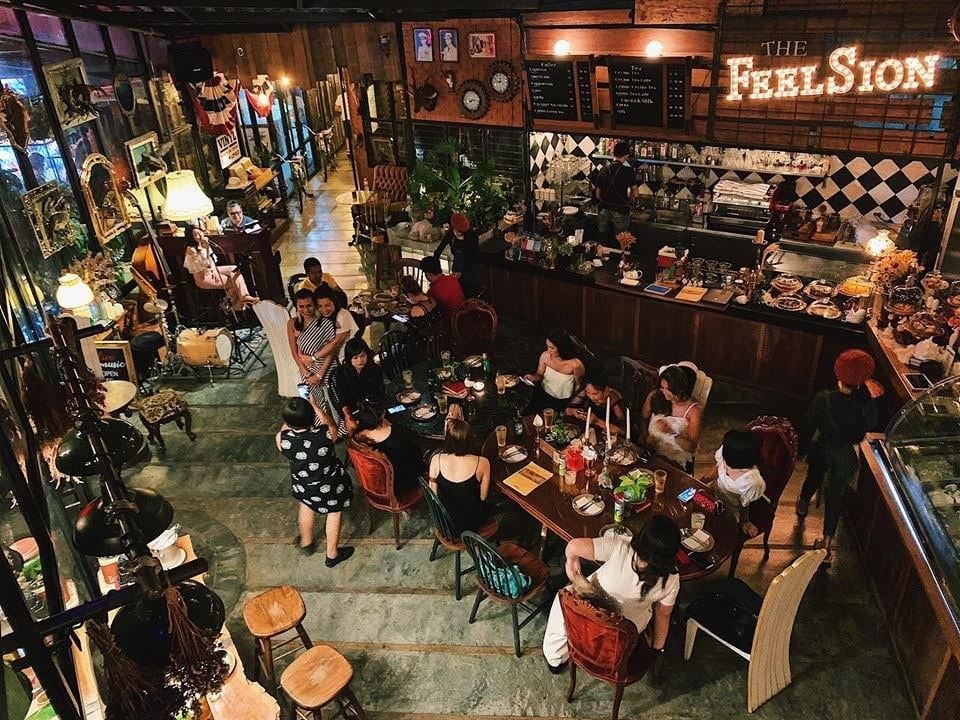 The Feelsion Café
Location: The Feelsion Café (Phuket)
Open: Daily from 10 am to 11 pm
Phone: +66 (0) 88-242-9646
Facebook : https://facebook.com/thefeelsioncafe
Sunset moments
     Baba Nest is the ultimate rooftop bar with a square platform, surrounded by a water pond and fantastic 270 degree ocean view of Panwa bay. It stretches all the way to Phang Nga Bay on the east side and Phuket hills in the west. Basically this location gives you a world class sunset view that you'll never forget.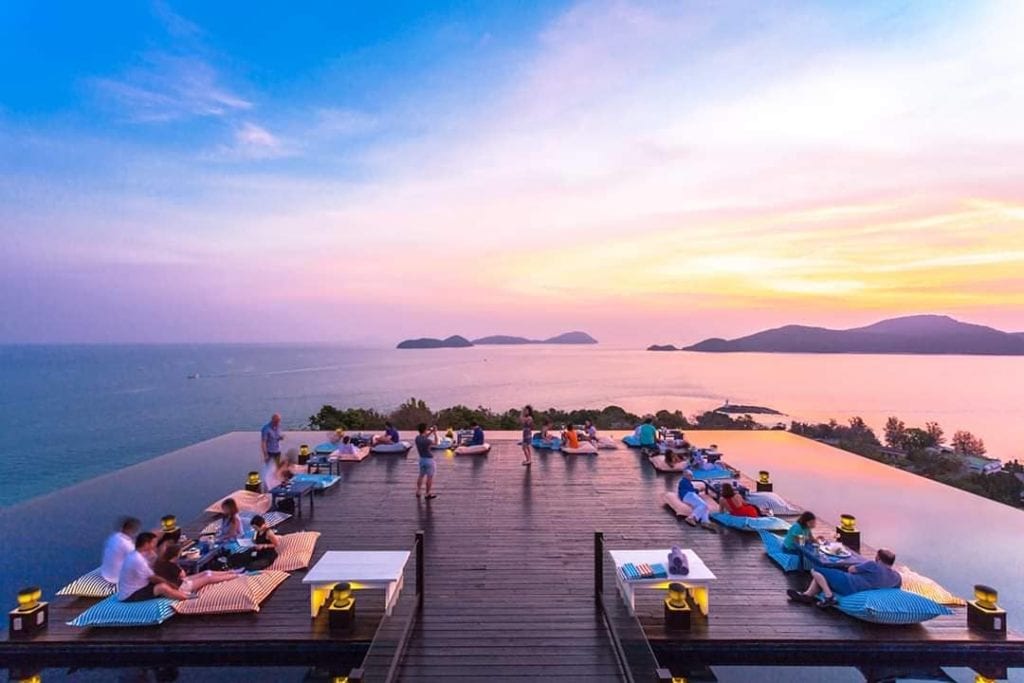 Baba Nest at Sri Panwa Resort
Location: Sri Panwa, 88/5 Sakdidej Rd, Wichit, Muang, Phuket 83000, Thailand
Open: Daily from 5pm to 9pm
Phone: +66 (0)76 371 000 
      Of course, everyone can travel or go on a vacation, but travelling like a local is to experience the cultural differences from a totally different point of view. Besides, you get to understand what the locals really do. All of it adds up and ultimately makes your journey really memorable.
     Lastly, we'll leave you with this quote by Marcel Proust – "The real voyage of discovery consists not in seeking new landscapes, but in having new eyes! ".