The Best Vegan & Vegetarians Places in Koh Samui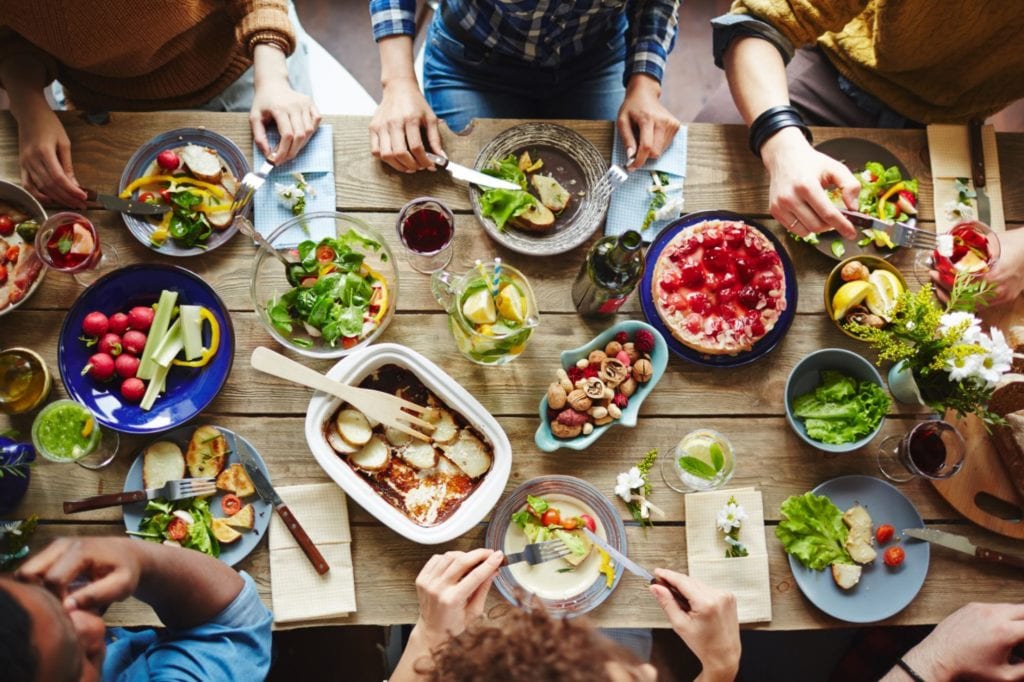 Finding vegetarian options isn't always easy while you travel, but it's exciting to discover new places for your food adventure. Whichever spot you might be in Koh Samui, you will most likely find meat-free dishes alongside with the health communities and yoga lovers. What we're saying is – there are many vegan and vegetarian restaurants in Koh Samui to try out. Here, we'd like to recommend some places you might like try sometime during your trip. Below, we've selected some of the best options for vegans and vegetarians for you!
Halapua by Kapuhala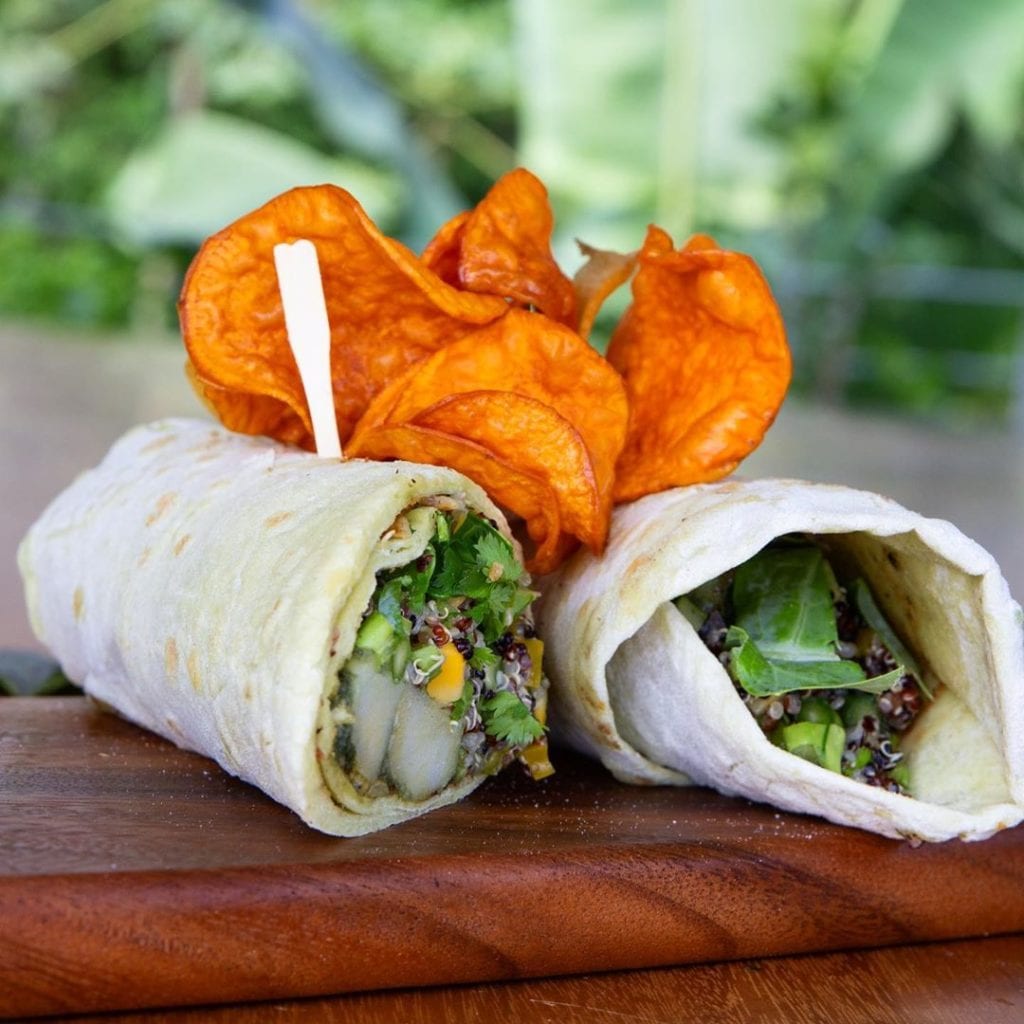 Halapua is a 100% plant-based restaurant, with the location overlooking the amazing sea view. Food here is made with just-picked seasonal ingredients that grows from Kapuhala Koh Samui farm e.g. vegetables, herbs, and fruit trees. The owners got an idea for this unique experience approach to support vegan travel as an essential part of sustainable tourism and eco-conscious. If you are looking for extraordinary plant-based food, you won't be disappointed here.
Open: Daily from 7:00 AM – 11:00 PM. Delivery service is available.
Location: Chaweng Noi | Near Sunrise Villa/Restaurant, Bophut 84310, Thailand
Art Café by June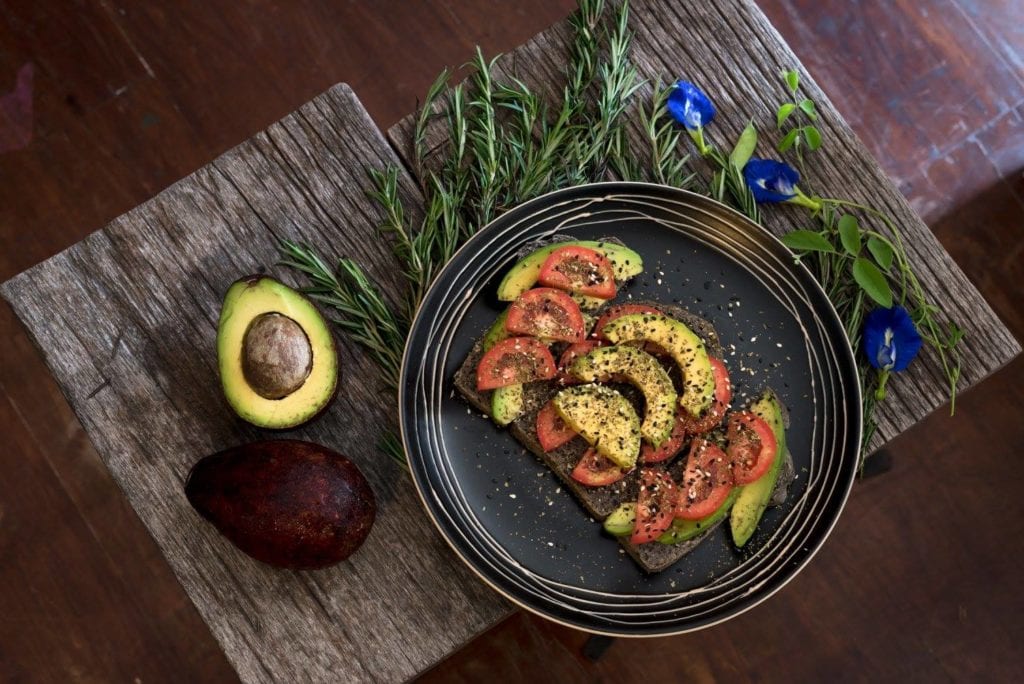 Many nice options packed with flavour are provided at Art Cafe' by June. This gem in Koh Samui caters to vegetarians, vegans, raw vegans and gluten intolerants with healthy, organic food and homemade bread for that unique gastronomical experience.
The menu includes mainly traditional and vegetarian dishes and the not-to-miss organic coffee which is extremely tasty. Apart from the scrumptious food, this restaurant simply is sweet and cozy, is a truly natural place full of good energy and fantastic people to meet. With the dietary options and atmosphere, this place is one of the most favorite for vegans and vegetarians. Overall: highly recommended.
Open: Mon-Sat from 9:30 till 18:30
Location: 119/ 17 Moo 1 Bophut, Samui Town Center, Ko Samui, Thailand
Pure Vegan Heaven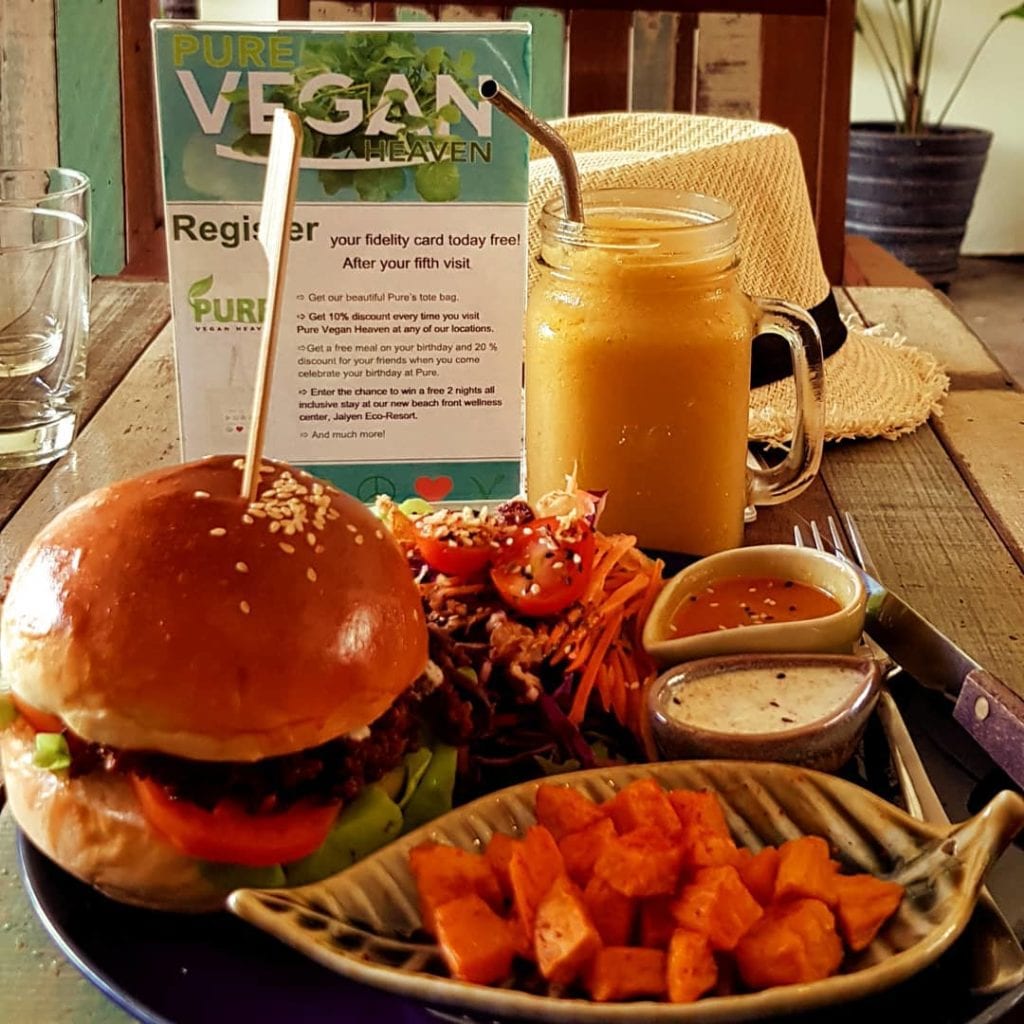 A nice surprise awaits you at this delicious vegan place on Lamai Beach Road. With the awesome taste, nice atmosphere and green settings, it's a place you don't want to miss out. The dining option are perfect whether you come solo, with a partner, or with the family. Their burgers simple are the best homemade vegan you could find. The texture is fabulous with an explosive flavor and served with delicious roasted sweet potatoes. Smoothies, fresh juices here also are really refreshing and unique. Overall, a great variety of international food is here to enjoy. This is definitely one of the best vegan experiences in Koh Samui.
Open: Daily from 10.00am-9.00pm
Location: 131/1 Had Lamai Rd, Tambon Maret, Ko Samui District, Surat Thani 84310
Wild Tribe Superfood Cafe Koh Samui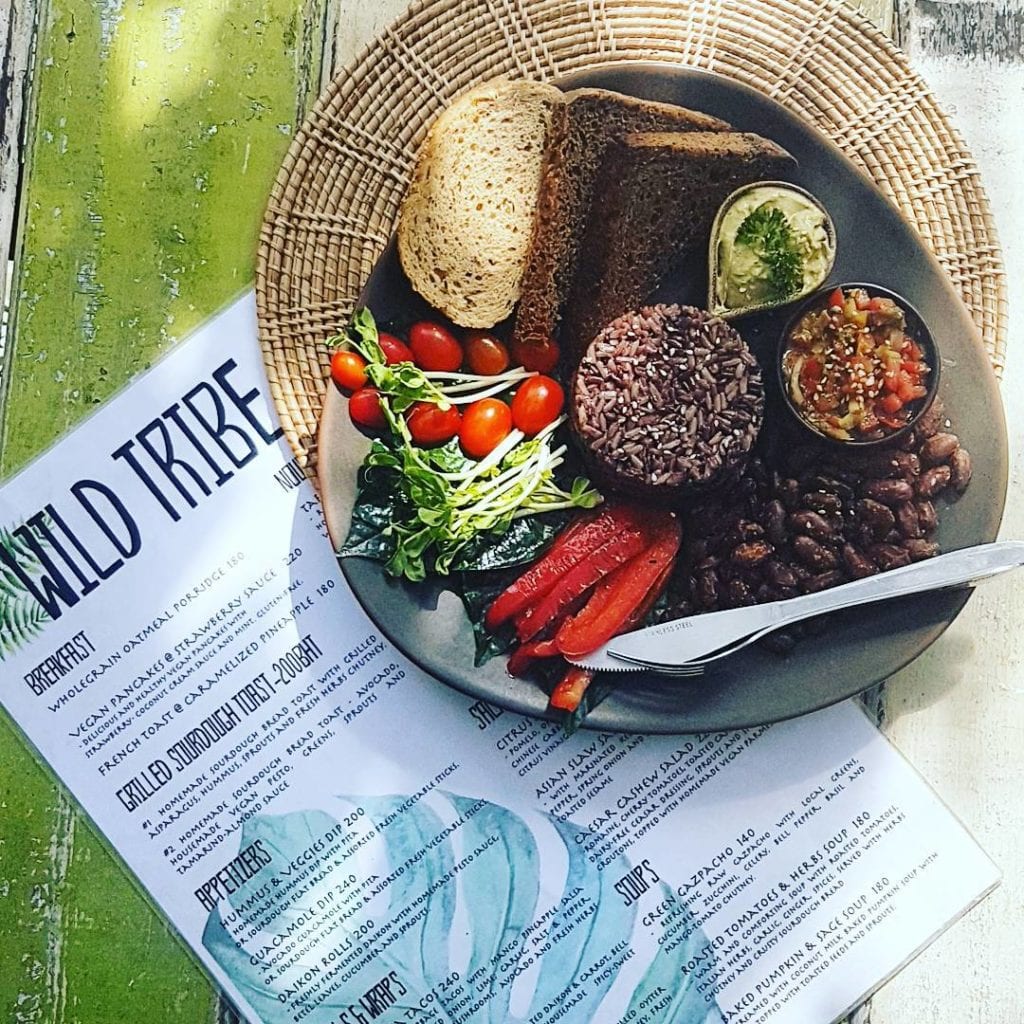 Wild Tribe Superfood Cafe is a superfood café and juice bar with a comfortable atmosphere in Lama beach. The place is dedicated to offer healthy, holistic, detox food. Their ingredients are all sourced small organic farms on the Samui island. While there is no specific food that can help protect you from the virus, but here you'll immediately feel ten times healthier with nutritious, tasty food. For non-vegetarians, there are as well meat and fish options you could order. Therefore, it's a suitable place to bring along your friends, as they'll surely find something tasty to meet their tastes. The café also offers complimentary tea in the dispenser. A side note is that prices aren't super cheap, but totally worth it.
Open: Daily from 8.00am-9.00pm
Location: 55, 108/54-55 Had Lamai Rd, Maret, Ko Samui District, Surat Thani 84310
Tropics Beach Club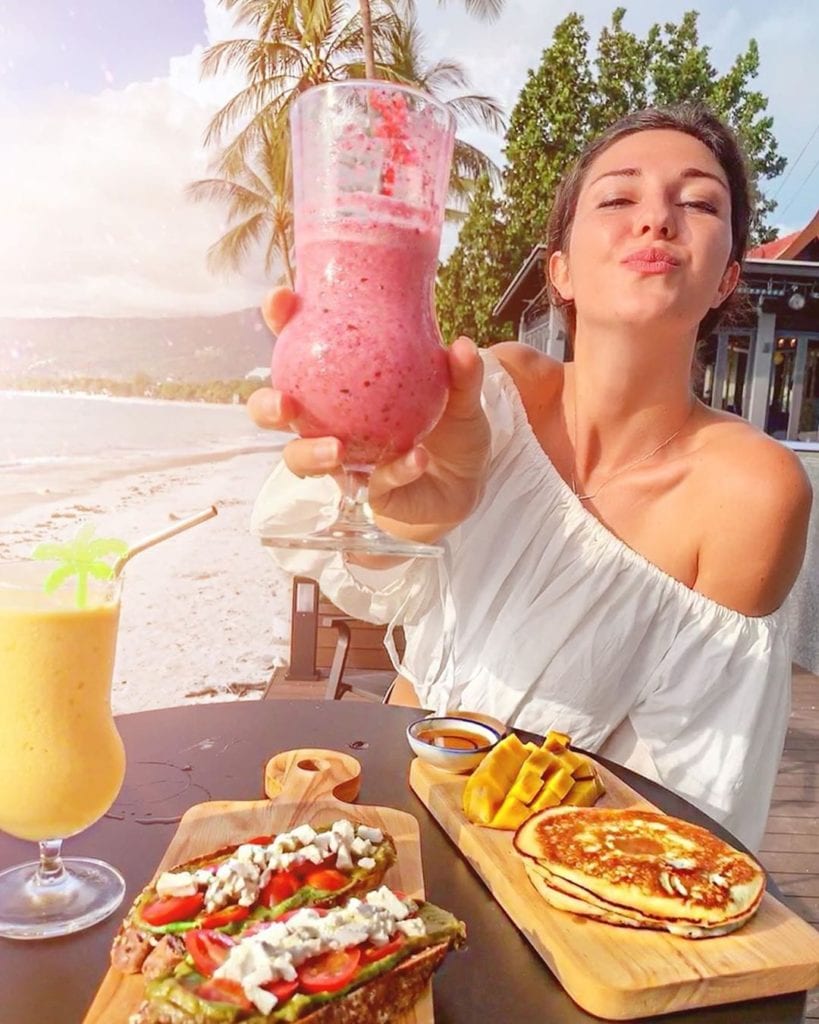 Wouldn't it be great if vegetarian options are available at your hotel? Well, Tropics Beach Club in Lub d Koh Samui is one to mention for their dining haven.
Located right by the Chaweng beachfront, there are lots of choices in the menu for non-meat eaters like the veggie pizza, pesto pizza with tomato sauce, grilled vegetables, pesto sauce and mozzarella cheese. This is absolutely a great place to relax and spend the day in the sun, enjoy some food and drinks by the pool. Live DJ, fresh smoothies and breezy vibes are just perfect combinations that make Tropics Beach Club stand out from other places in Koh Samui.
Open: Daily from 06.30 am – 12.00 am.
Location: 159/88 Moo 2 Chaweng Beach Road Koh Samui, Surat Thani 84320
Greenlight Cafe and Bar Koh Samui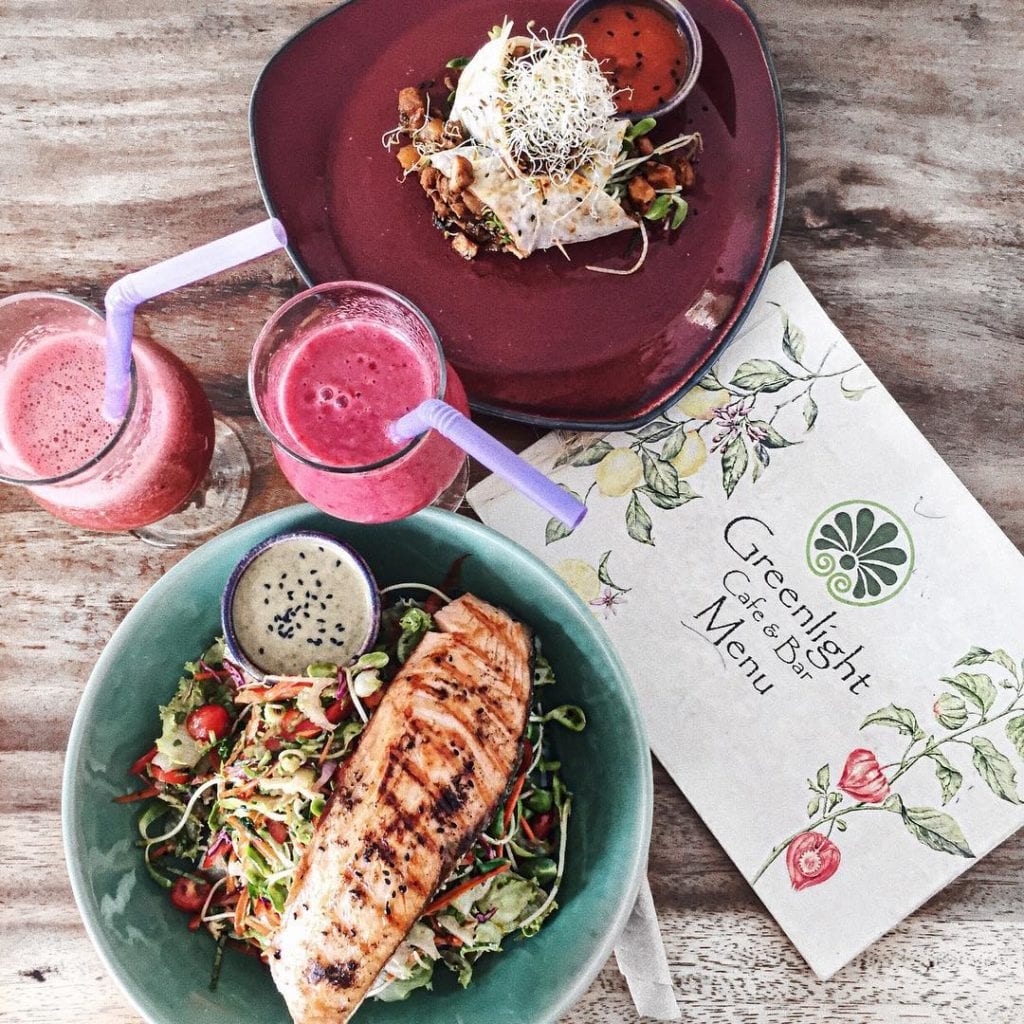 When you're in need of healthy food and a unique dining experience, look no further than the Greenlight Cafe & Bar, located at Fisherman's Village. The menu here features a variety of hearty choices for health-conscious eaters. They offer vegetarian, vegan, gluten-free meals, fresh juices, organic fresh roasted coffee, smoothies, and more. Although it's quite pricey when compared to other restaurants, it's of a great quality; most of the ingredients are locally sourced and organic. The atmosphere and design of the cafe are nice, with a small library, so you borrow some books to read while enjoying the food. The café is a big community supporter where they encourage locals and tourists to get together and share ideas here.
Open: Daily from 8:00am – 22:00pm
Location: 3/28 Moo 1 Fisherman's Village, Bophut, Koh Samui,Surat Thani, Thailand 84320
Noori India Koh Samui
Noori Indian restaurant is located in the heart of Chaweng center. This restaurant is popular for its authentic Indian dishes with a wide selection of cuisine types: Indian, Asian, Vegetarian Friendly, Indian vegetarian and vegan options, Halal (100%). The spices are freshly ground every day using the best and authentic ingredients from India. All in all, you can find delicious fresh food at an affordable price here. Besides, they provide you comfort with free delivery to your place.
Open: Daily from 11:00 am – 11:30 pm.
Location: 17/1 Moo. 2, Chaweng Beach Road, Bophut, Ko Samui District, Surat Thani 84320
Summer by Coco Tam's
This is truly a restaurant to chill, have great food, and lighten your mood with the good vibes. Summer by Coco Tam's is decorated in a beautiful setting and overlooks the white sandy beach. Though it's not something to eat everyday considering the price, the food is super fresh, healthy and of great quality. You can enjoy grilled fish, quinoa, delicious salads, and roasted potatoes while finding yourself in the dreamlike spot to see the Koh Samui views.
With vegetarian friendly options in mind, salads, freshly made smoothie bowls, and other veggie meals are available. Bowls are made from all-natural ingredients with no sugar added. For instagrammers, you also don't want to miss the photogenic shots here.
Open: Daily from 09 am – 10.00 pm.
Location: 62/1a, Koh Samui, Surat Thani 84320
We'll leave you here with hopefully enough ideas for dining options, and hope you have plenty of days in Koh Samui to enjoy most of the cafes and restaurants. Happy eating in paradise!