Off The Beaten Track In Koh Samui????
White sandy beaches lined with exotic palm trees and sun almost all year? Yes please! Located in the beautiful Gulf of Thailand, Koh Samui is the country's second largest island and is home to many natural phenomenon as well as man-made structures. With an area of just under 230 square kilometres, there is so much to see and do, that some of Mother Nature's best work is often missed. Not today!
Of course you can lie on the beach with palm trees hanging over you, crystal clear waters at your feet and soak up the rays all day long, and we encourage you to do that. After all, if you don't do that, have you really been to Koh Samui? Let's take a quick look at some activities that must be done here, and then some sights and activities off the beaten track.
● Must-Do ●
Buddha's & Temples For Days
We all know Thailand is famous for its abundance of Buddha's but what you will find in Koh Samui is quite special. Sitting on perhaps the farthest corner of the island is the most famous attraction here; the 'Big Buddha'. Towering 12 metres above ground and made of gold, this statue is actually off the mainland and can be reached via causeway. It shows Buddha in the seated position, highlighting a time when he rejected all temptations.
There is also a Secret Buddha Garden which was constructed by Nim Thongsuk in 1976 and is at the heart of the island. It is comprised of many Buddha statues that represent various times and situations. If you are a little confused right now trying to imagine this garden, just think of a gnome garden and then amplify it by 10 fold! With a stream trickling down the centre and surrounded by peaceful, green gardens, it is sure to bring a sense of zen to your body, mind and soul.

Natural Beauty
As you research Samui Island, you will notice that there is no shortage of natural beauty. Everywhere you walk seems to have an element of paradise to it, even if you are in the backstreets of the town. However there are a few places such as Namuang Waterfall and Ang Thong Marine Park that must be seen to be believed.
Namuang Waterfall is located in the middle of the jungle and is a two in one offer. Huh? There are two waterfalls, namely Na Muang 1 and Na Muang 2. Na Muang 1 runs down the rough yet oddly satisfying cliff face and into a small pool where you can swim. The latter is a further 30 minute trek uphill and is just as beautiful.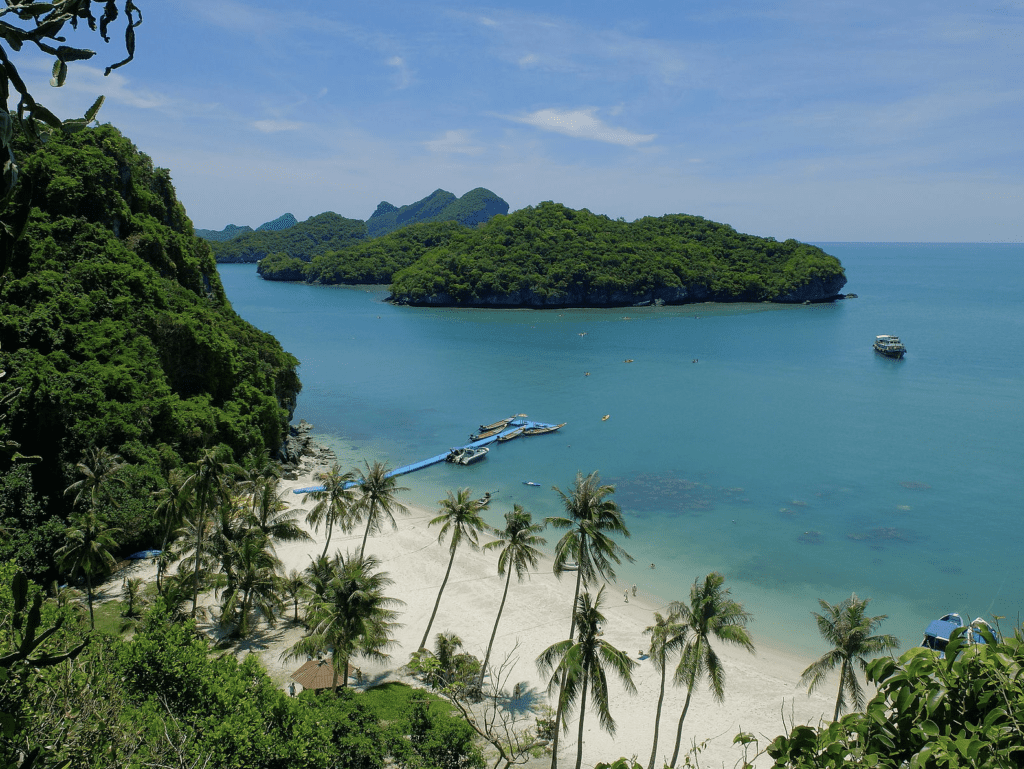 Ang Thong Marine Park is an archipelago of 42 small islands and is worth a whole day trip. The overall beauty of these islands could be described as 42 small Samui Islands. Just look at the picture below to see what we mean. It is a protected area of 100km₂ and is home to unique and exotic sea and wildlife.
Wat Khunaram
While this temple is mainly for locals, tourist activity is slowly gaining traction. It is a temple where you can see a Monk that has been mummified for 20 years. This attraction isn't for the faint hearted and can be somewhat of a chilling sight, but it's one that will leave you wanting to know more about Thai culture.
● Off The Beaten Track ●
Blissful Beaches
There are a few beaches on Samui Island that are yet to be invaded by tourists, so let's keep it between us! Silver Beach is considered one of the best beaches on the island, and with water so clear you can see your toes even 100 metres offshore, it's easy to see why. Aside from the pristine waters, the surrounding rocks add a sense of privacy and attract some jaw-dropping sealife, making for some amazing snorkeling!
When you think of a beach on a tropical island, Ban Tai Beach is this beach…but in real life! 2km of white sand, palm trees and turquoise waters could well be heaven-on-earth.
Situated on the North Western Coast of the island, Laem Yai Beach sits almost untouched by tourists. If you are looking for some quiet time, this is the place for you. And, regardless of what time of year, you will almost always have the beach to yourself! How good is that!?
Beer Tasting
As the beer scene in Thailand is overrun by brands like Chang, Singha and Tiger, most people are unaware that craft beer is on the rise. Koh Samui is home to some tasty craft beer brands and is an often forgotten feature of the island.
The best spot to taste some truly local beer is at The Beer Masons, Chewang. Here, you can entice your taste buds with craft beer from around the world, as well as Thailand and others from the region.
Golfing With A View
A good excuse to see most of Koh Samui's viewpoints, and not many know about this, is to play a round of golf on the island's 18-hole course. Offering stunning panoramic views of the Gulf and the Northern Coast of Samui, there is really no better place to be. Soak up the sun, play golf and look out onto the horizon, dotted with island after island, and don't worry, you can hire shoes and clubs seeing as they probably didn't make the trip…fancy that!
Nightlife
It seems that most bars and clubs are located at Chaweng Beach, so it is the place to be. Regardless of your taste in nightlife, this area has it all, but one thing is for certain…you need to experience a ladyboy cabaret show. There are many shows along the beach on a nightly basis so you will be spoilt for choice. If you are second guessing it, take a deep breath and throw yourself in there! You will get into the groove in a matter of minutes!
As far as bars and clubs go, it is almost impossible to recommend one in particular, as they all have a different atmosphere. We would recommend taking a walk around the Chaweng area and see what works for you. However, Ark Bar, On Street Bar, Soi Green Mango and Bar Solo are all great starting points.
If you love the hustle and bustle, opt for a Chaweng beachfront hotel. There are plenty to choose from at a very affordable price. Lub d is perhaps the best value for money beachfront hotel in Koh Samui, because you can almost feel the sand in your toes! With a variety of room options to choose from. What's more is that they have a hip bar, 'Tropics Beach Club' right on premises. Offering end-to-end views of the beach, with cheap drinks, great vibes and a place to chill out and meet new people, Tropics is the place to be as the sun sets over the amazing island that is, Koh Samui.