How to Get to Lub d Patong
        Getting from Phuket International Airport to Lub d Patong is quite a long journey, but not a particularly difficult one. The airport is right up in the north of the island, near Mai Khao Beach. Patong, meanwhile, is towards the southern end of Phuket, creating a journey of between 30 and 40 km to get from one to the other, depending on the route you take. At best, it's about an hour's drive.
        When it comes to choosing how to get to Lub d Patong from Phuket Airport, there are several public transport options available (not including renting a car, for which you'll need an International Driver's Licence). The option that's best for you will depend on your desired level of comfort, convenience and cost. We'll give you a summary of each to help you make that decision.

Cr. : phuketairportlimousine.com
Airport Limousine
        As you leave baggage claim and enter the arrivals hall at Phuket Airport, you'll hear the staff at the tour desks asking you where you want to go. If you choose to answer their question, you will be directed to a quite comfortable and luxurious car and will be driven directly to Lub d Patong. However, this is the most expensive option by some considerable margin. The average cost is about 800 baht per car – more if you need a bigger vehicle for your group and/or luggage. This service is available 24/7.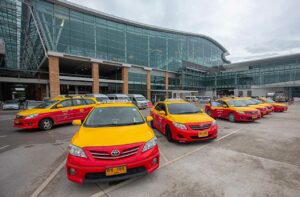 Cr. : phuketairportonline.com
Taxi Meter
        If you still want the convenience of a direct private transfer to Lub d Patong, but don't want the extremely high cost of a limousine, you will need to walk past the tour desks and out of the airport exit to the pick-up zone.
To one side, you'll see a small counter with the word "Taxi Meter" on the front. They will find a normal metered taxi to take you directly to Lub d Patong. You'll obviously lose a little in luxury but you will gain a little in savings as the cost is about 500 baht with a 100 baht airport surcharge, making a total of about 600 baht per vehicle. Taxis are available 24/7.
   
Cr. : phuketairportlimousine.com
Minibus
        You can save a lot more by taking a shared minivan from the airport to Lub d Patong, with the cost at just 150 baht per person. However, what you gain in savings, you lose in comfort and convenience. The vans do operate 24/7, like the taxis, but they are quite small and you'll be tightly packed in with a lot of other passengers and all of their luggage. The vans have a capacity of 11 passengers and they will do their best to fill each van before sending it on its way, even delaying your departure if necessary.
        The van will stop along the way, which adds time to an already slow journey. This stop is partially so that the minibus company can check where all of the passengers are going and organise the most efficient route to get everyone to their destination, but it's also used as an opportunity to try to sell passengers a few tour packages.
While it is increasingly rare, there were also some cases of van companies trying to tell people that the hotel they planned to stay at is already full, in the hope that they could take you to one that would pay the company a commission. However, if you book in advance or just tell them to take you to the hotel anyway, it shouldn't be a problem. Thanks to these delays, needing to drop off other passengers and the generally slower speed of the buses, the ride can take about an hour and a half, if not longer.
Cr. : phuketairportbus.com
Airport Express Bus
        If minimising cost is more important than speed, the white Airport Express Bus costs 120 baht per person but takes about two hours to reach Patong. Operating between 8 am and 8 pm, the vehicles are clean, comfortable and air-conditioned. However, the bus stops at the beach end of Bangla Road and will not take you directly to Lub d Patong. You'll need to either walk or take a tuk-tuk or taxi the remaining 700 metres. Note that you want the white bus and not the orange one as this one goes to Phuket Town.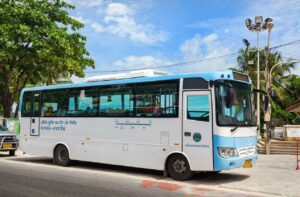 Cr. : phuket101.net
Phuket Smart Bus
        If your flight arrives between 9.30 am and 9 pm, the Phuket Smart Bus is a cheap and comfortable way of getting to Lub d Patong, though it also has its inconveniences. The blue-and-white bus departs at the top of each hour from outside the terminal and follows the very beautiful but winding coast road down to Patong via Bangtao and Kamala. The price is only 100 baht per person, and you can pay in cash, by QR code bank transfer or with a Rabbit Card (as used on the BTS Skytrain in Bangkok). However, the journey is about as slow as the Airport Express Bus and will drop you near the Jungceylon Shopping Centre, about 850 metres from Lub d Patong.