How to get to Lub d Samui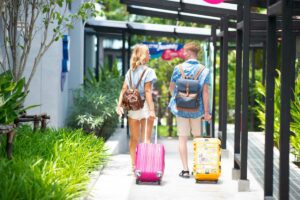 Our Lub d Samui is a beachfront hotel located right next to the gorgeous Chaweng Beach,
waiting for you to surprise yourself with how relaxing and breathtaking the scenery is going to be!
Getting to Lub d Samui and starting your holiday in this beautiful paradise is simple.
Samui hosts its international airport and regular ferries so you have both a cost-friendly but slow or quick but pricey options.
Flying to Koh Samui
Its gimmicks are a tropical appearance and thatch huts in place of open-air terminal buildings. Domestic flights operated there are Bangkok Airways since this airline owns the airport.
Flights from Hong Kong, Singapore, and Phnom Penh land directly at Samui, though other overseas arrivals will probably have to come via Bangkok and get a connecting domestic flight. You can get flights from all over Thailand to Samui with Bangkok Airways.
Sailing to Koh Samui
Ferries sail to Koh Samui from Don Sak (east of Surat Thani) every day, with several sailings per day.
There are many options for sea transportation including the quick and comfortable high-speed catamarans and the slow vehicle ferry. Most ferries arrive at the Nathon Pier on the west of Samui, though a few may arrive at other, smaller piers.
Go to Lub d Samui
Once you've arrived in Samui – however you choose to achieve that – you'll need to get from there to Lub d Samui.
Getting here from the airport is extremely easy, just grab a taxi at the arrivals gate and you'll be checking in just 10-15 minutes.
A taxi from the ferry terminal will take you a bit longer since the pier is on the other side of the island. The taxi ride from Nathon Pier will take about 30-40 minutes. Taxis are pretty much the only option since Samui's choices for public transport are severely limited.
So now that you have an overall idea of how to get to our beachfront getaway at Lub d Samui,
let us help you have an incredible island experience.