9 Travel spots in Phuket to visit after the outbreak
While there are plenty of incredible things to do in Phuket, the following list is our pick of the things which are definitely worth a visit while you're in this island. Being a place of great variety, there's something among the best things to do in Phuket for virtually every kind of traveler. Take a look below and see what matches your interest.
1. Patong
Patong is Phuket's most popular beach destination in Phuket with its long white sandy beach lined with restaurants, cafes, and bars that you can walk from Lub d Phuket Patong Beach in 3 minutes. Patong is also the party capital of Phuket with the famous nightlife experience. At Bangla road or Soi Bangla, you will find hundreds of beer bars, go-go bars, strip- and dance clubs, massage places, night clubs, and cabaret shows and in every month there is a very popular Full Moon Party at Paradise Beach located 4 kilometres south of Patong Beach with live international DJs, beach BBQ, fire shows, and dance shows.
Moreover, Patong is also one of the best places to go shopping in Phuket, with bustling markets and night markets, as well as Patong's biggest shopping mall, the Jungceylon, located just opposite Bangla Walking street in the center of Patong.
2. Phuket Big Buddha
Phuket's Big Buddha is one of the most important and respected landmarks on the island. The huge white Buddha image sits on top of the Nakkerd Hills between Chalong and Kata and, at 45 metres tall, can be seen from as far away as from Phuket Town and Karon Beach.
Open: Daily from 6am to 7pm
Phone: +66 (0)81 891 3827
3. Promthep Viewpoint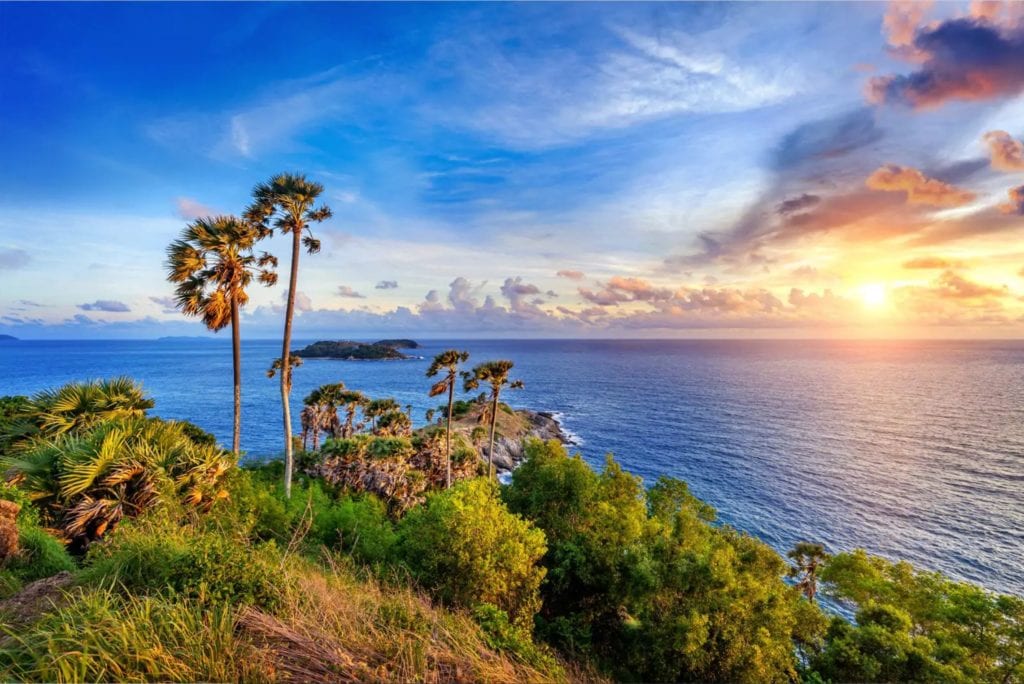 The Promthep Cape is one of the most photographed locations in Phuket. If you go up to the outdoor terrace, you can see the distinctive shapes of Phi Phi Islands, Koh Racha Yai and Koh Racha Noi on a clear day. Most of the time, you'll be able to see nearby islands, like Koh Kaeo Yai with its Buddhist monastery. Some people walk down to the end of Promthep Cape's promontory, though most stay in the viewing spot for sunset.
4. Phuket Old Town
Old Phuket town is a historical section of Phuket which is famous for architecture, shops, museums, street arts, restaurants and hotels. You can easily spend several days exploring this interesting area of Phuket and get tons of cool photos for your Instagram feed. Oh, and every Sunday the Phuket Old Town turns into a walking street.
5. Phuket Walking Street
This walking street is an extremely popular night market that takes over the beautiful Thalang Road in Phuket Old Town with the colorful Sino-Portuguese style house facades are enhanced by the addition of color-changing lights, which also make a lovely backdrop every Sunday evening, also known as Lardyai, which means "Big Market". The two main items sold at Phuket walking street are local food and souvenirs. This weekly event is also family-oriented with the presence of toy stalls as well as musical performances and other entertaining acts.
Open: Sundays from 4pm to 10pm
6. Phuket Weekend Market (Naka Market)
Phuket Weekend Market or Naka Market or also known as Chaofa Variety Weekend Market, is an immense night bazaar located in Phuket Town along Chao Fa West Road. The market is a fascinating jumble of second hand goods, curios, live animals, souvenirs and a large amount of great local food hawkers serving specialty dishes and Thai favorites.
7. Nui Beach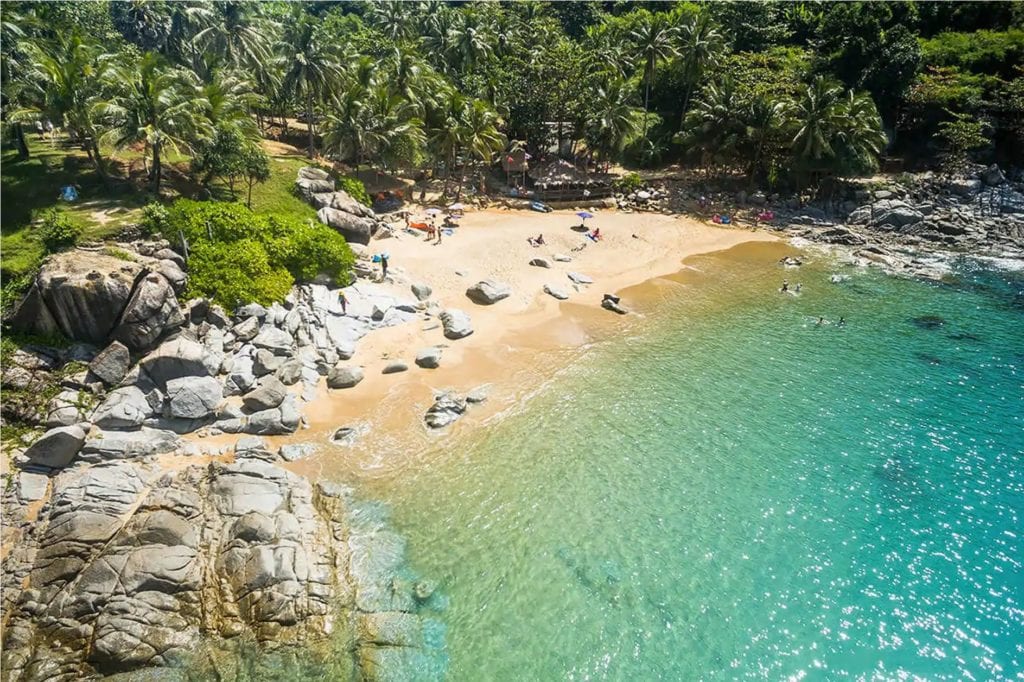 This beautiful 'secret beach' in Phuket – Nui beach – is located somewhere between Kata Beach and Nai Harn beach. You will discover a lovely small bay with a lot of thatched hut and wooden terraces. The place was quiet and nice with a bar/restaurant, a stylish spa, and recreational activities such as snorkelling, beach volleyball, and sea kayaking.
8. Flying Hanuman
Is anyone looking for a thrilling experience in Phuket?
Flying Hanuman is the eco adventure in the Phuket jungle, a fun and exciting activity for both children and adults. Try an exciting jungle adventure like ziplining in the forest while enjoying the beautiful jungle scenery and island views.
Open Daily: 8 am – 5 pm
Tel.: +66 76 540 767 | +66 81 979 2332
Website: www.flyinghanuman.com
9. Phuket Elephant Sanctuary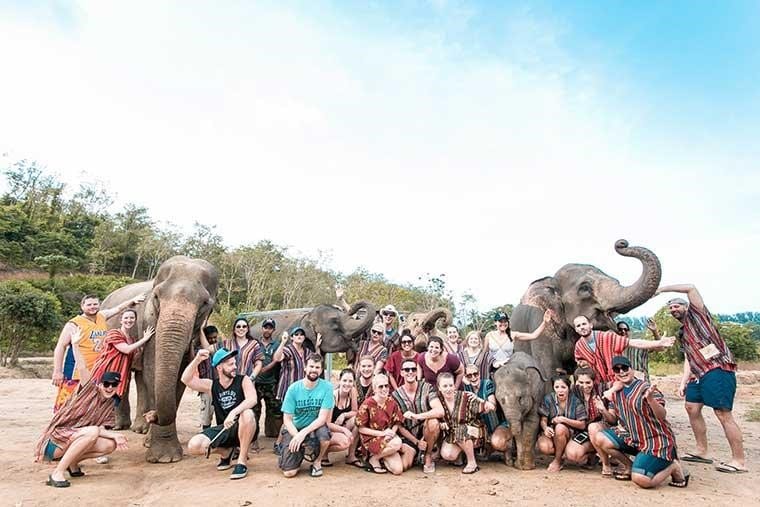 In this sanctuary, visitors will be able to interact and join the elephants in their natural habitat and learn about the life of these rescued giants. This is not a petting zoo. You will not be able to ride the elephants, but you can walk with and feed them and watch as they roam, forage, bathe and play in a natural environment. The tour is not the primary purpose of the facility. However, the money raised from them helps to provide food, care and medicine for the relatively small number of residents.
Open: 8.30-17.30 Hrs.
Tel.: 07 6529 099 (8.30 am – 5.30 pm), 0 2767 7111 (7.30 am – 10 am)
Website: www.phuketelephantsanctuary.org
Though this large island is surrounded by magnificent beaches, it isn't all just beaches and nature to discover. There are classical Sino-Portuguese architecture, fantastic nightlife, extreme sports, adventure activities, and a rich of culture and food to explore endlessly, in this dream destination known as Phuket.