10 Best Pad Thais in Bangkok that you cannot miss!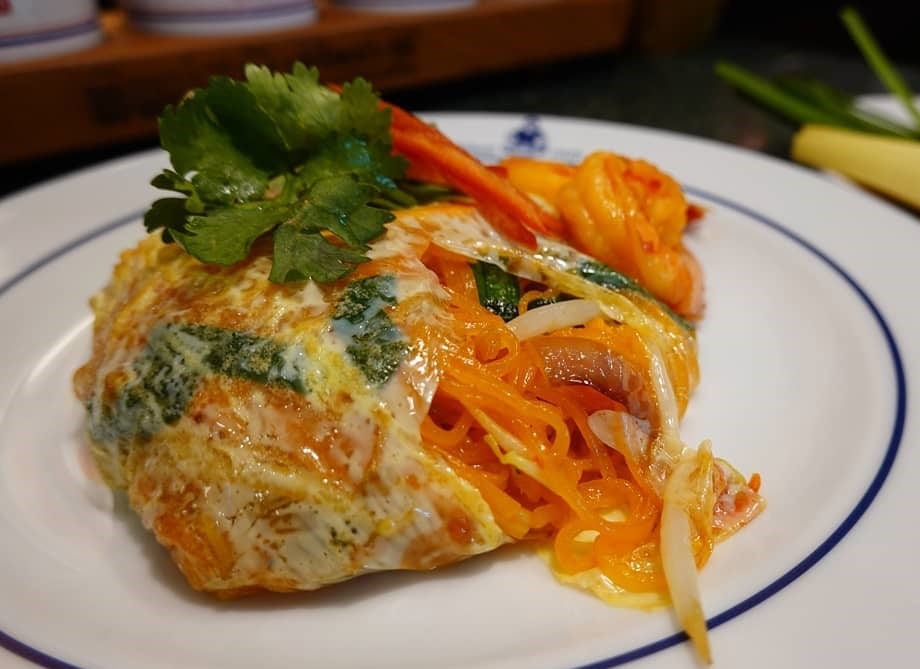 When you think about Thai food, what comes into mind? Most would answer "Pad Thai" – this simple yet delicious dish is no doubt became food phenomenon in Thailand. Pad Thai was previously known as "Kuay Tiew Phad" or stirred fried noodles. It was invented in the 1930s during the World War II when rice was very rare, noodles then became a substitute product. Kuay Tiew Phad is later called "Pad Thai" and became very popular among locals and tourists until today. CNN Go even listed Pad Thai at number five on a list of "World's 50 most delicious foods" in 2011.
So, where can you find the best Pad Thai in Bangkok?
Pad Thai can be found almost everywhere in Bangkok, from 5-star hotel to local restaurants, street food or your neighborhood markets. But which are the ones you cannot miss? GoJo Team takes you to try 10 Best Pad Thais in Bangkok that you cannot miss.
1. Thipsamai (ทิพย์สมัย)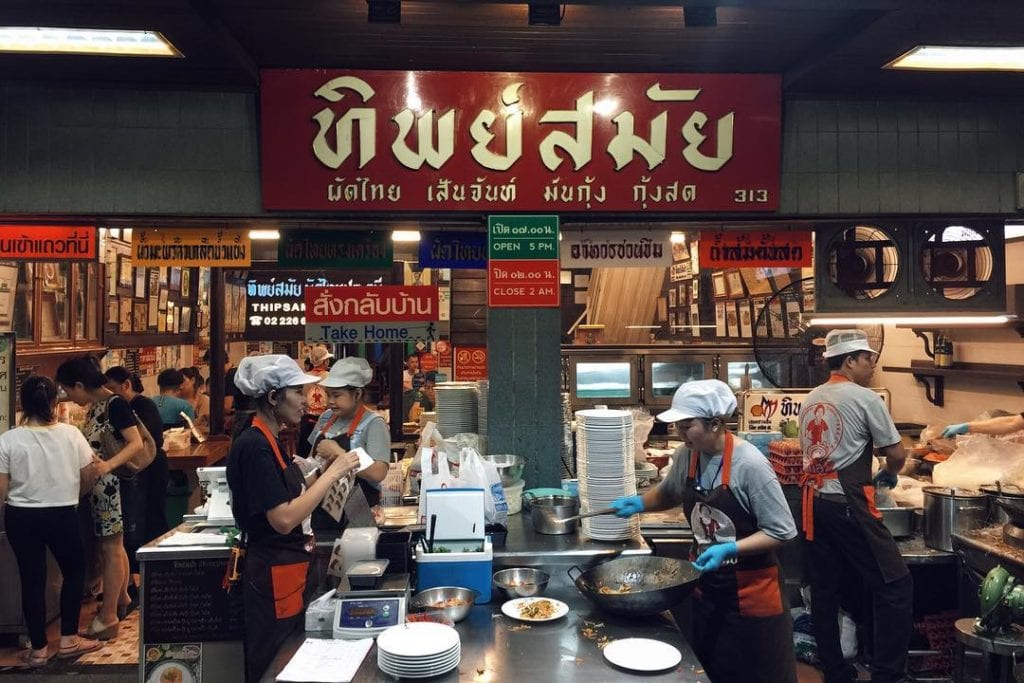 "Thipsamai Pad Thai Pratoopee", established since 1966, is the oldest Pad Thai restaurant in Thailand. It is also one of the street foods that made to the Michelin Guide Bangkok 2018 (Bangkok Michelin Bib Gourmand Guide). The place is known for its original recipe since the World War II, the first to use Sen-Chan noodles with shrimp oil, deep sea prawns and wrapping egg. There is always a long waiting line since they open the door at 5AM every morning! So, make sure you are there early! Thipsamai is located in the Bangkok's old town where you can also visit some temples and see unique historical buildings around the area.
Opening hours: 5AM-10PM (Open 24 hour for takeaway only during this period of COVID-19 outbreak)
Tel: 02 226 6666
Location: 313-315 Maha Chai Road, Click Map
More info: www.thipsamai.com
2. Lung Pha Noodle (ลุงภาผัดไทย)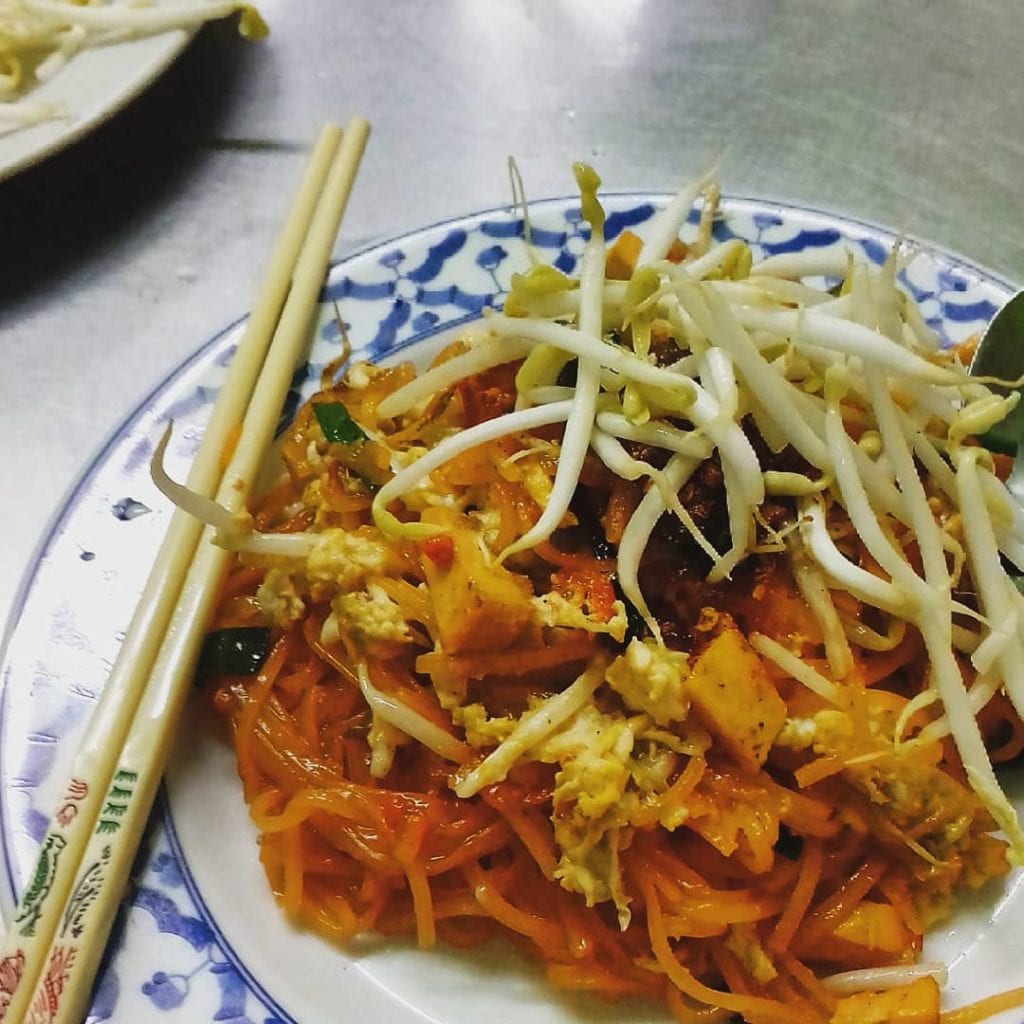 If you're not up for the long lines at Thipsamai, this is a perfect choice for you, because Lung Pha locates only a few blocks away! Lung Pha is very popular among the locals, it serves only Pad Thai for more than 60 years with the same recipes. The place is casual, tiny, with only 6 metal tables with stools for seating. The walls are decorated with framed photos of attractions, royal family and old newspapers. The recommended dish is prawn oil Pad thai, which they precook the sauce by adding prawn oil and herbs to make it tastier.
Opening hours: 10am – 2am
Tel: 02 621 0082
Location: 510 Maha Chai Road Click Map
3. Sawasdee Ratchawat (ร้านสวัสดี ราชวัตร)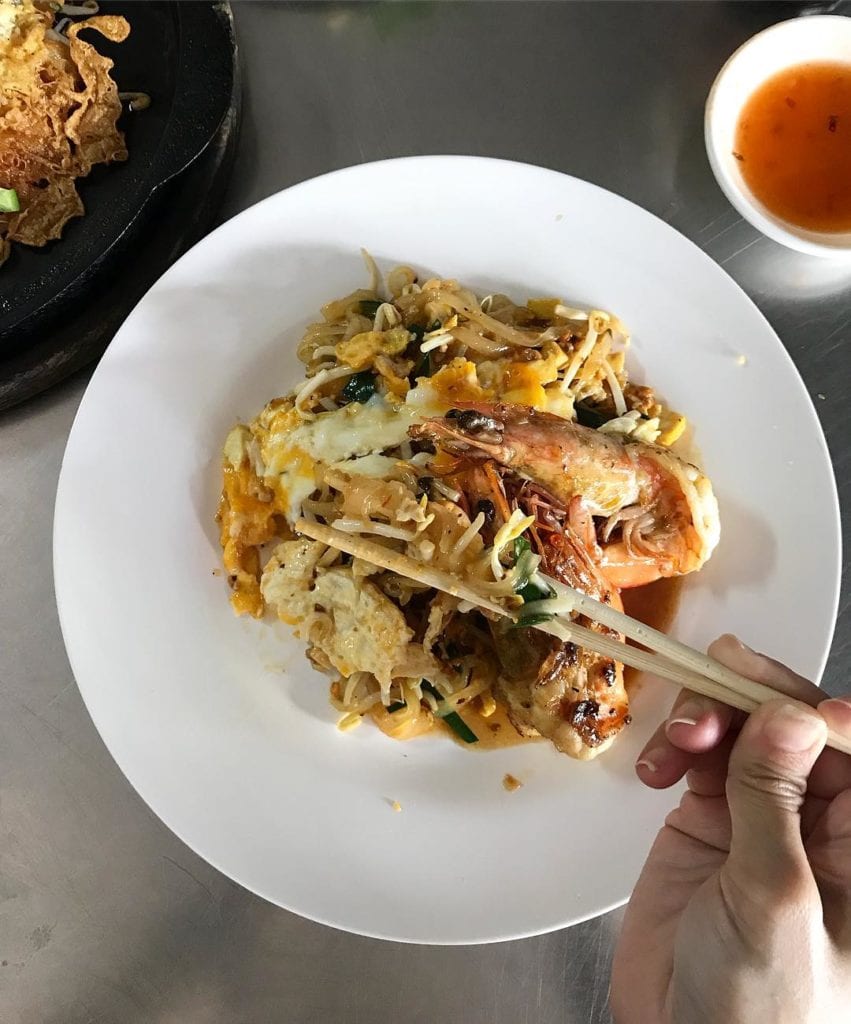 With almost 100 years' of experience operating this restaurant, it is guaranteed that you definitely won't be disappointed with Pad thai here! "Hoy Tod" or crispy mussels/ oysters omelet is another highlight that you must order at Sawasdee Ratchawat.
Opening hours: 7am – 4pm
Location: 955 11 Thanon Nakhon Chaisi Road Click Map
Tel: 0-2241-2096
More info : facebook.com/sawadee.ratchawat
4. Pad Thai Pratoomthip (ร้านผัดไทย ประทุมทิพย์ )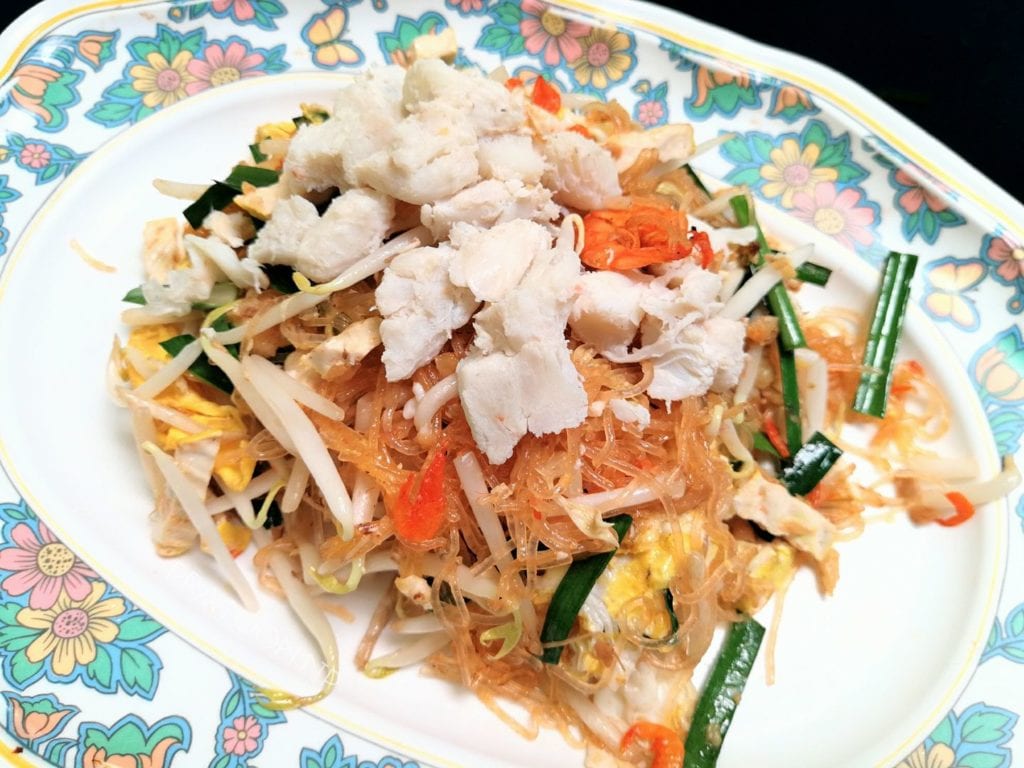 A local restaurant recommended by locals for variety of good quality Thai food and value for money. It is located between Tao Poon and Bang Po BTS Station. Padthai at Pratoomthip is known for big portion and unique they offer different kinds of meat for you to choose from, including prawns, squid, chicken, pork and liver.
Opening hours: 10.30am – 7.30pm
Location: 166/29-30 Pracha Rat Sai 2 Rd Click Map
Tel: 0-2912-8904
More info: facebook.com/Pratoomtippadthai
5. Pad Thai Deves (ผัดไทยเทเวศร์ 359)
Another famous local spot for "Pad Thai" and "Hoy Tod" (crispy mussels/ oysters omelet). Pad Thai here is a must-try because of its 80-year-old secret sauce recipe. The restaurant is located in "Deves" area which close to Khaosan road, the famous pub street in Bangkok. So this is definitely a perfect spot to enjoy the most famous dish in Thailand, grab couple of drinks and enjoy the night vibe around the area afterwards.
Opening hours: 5pm – 1am | Close on Monday
Location: 359 Samsen Road Click Map
Tel: 08-1646-6154
6. Pad Thai Sawoey (ผัดไทยเสวย)
A local Thai-fusion restaurant, located in Ladprao area. This place is special as it offers wide variety of Thai-fusion menu, upto 100 different dishes for customers to choose from. The owner received Best Pad Thai Award from "Amazing Thai Taste" in 2003 as a guarantee for one of the best Pad Thais in Bangkok!
Opening hours: 9AM – 10PM | Close on Monday
Location: 41 154 Sukhontha Sawat 8 Alley Click Map
Tel: 0-2570-9229
7. Loong Piak (ร้านผัดไทยลุงเปี๊ยก)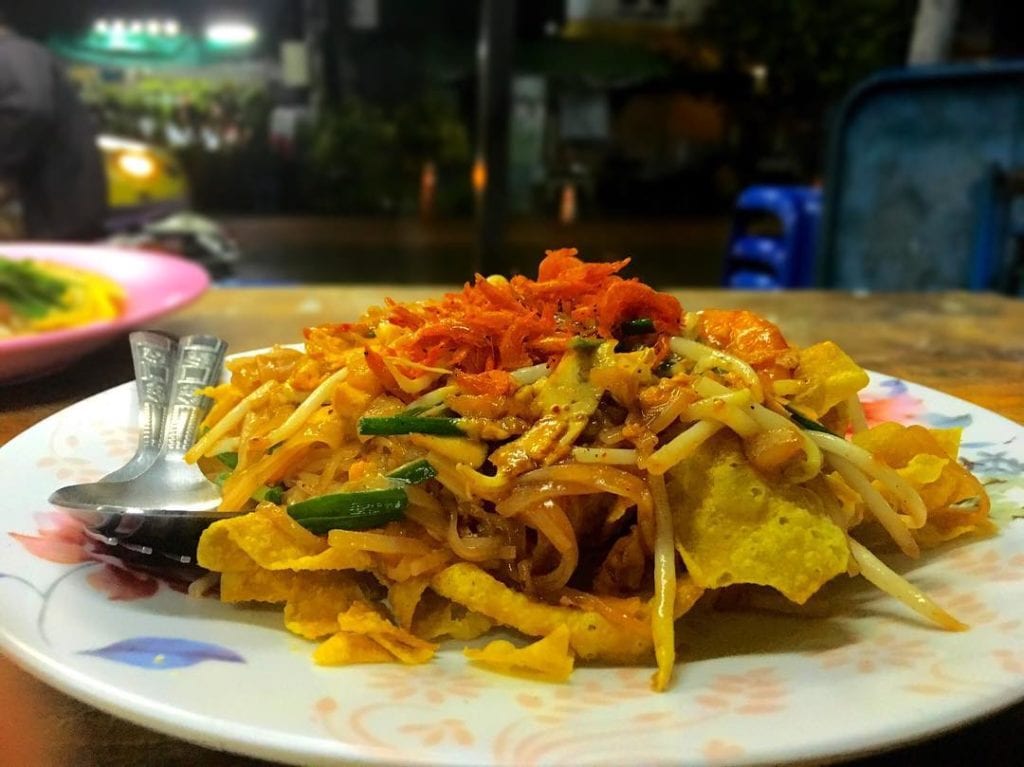 This place was voted to be the most cheap and delicious Pad thai in Bangkapi area because they located near high school so the price is low, but the taste is max! Their unique tamarind sauce make it even tastier.
Opening hours: 10am – 2am
Click Map
Tel: 08-5436-5478
8. Pad thai Ekkamai (ผัดไทยเอกมัย)
Among countless of famous restaurants on the posh Ekkamai road, this place is known for "The best Pad thai" in the area. Fresh big river prawn is ready to serve 24 hours everyday! Locals come here after clubbing and night life to enjoy Pad thai and other delicious dishes on the menu. With tasty food and air-conditioned restaurant, it is perfect to cure your hangover.
Opening hours: 24 Hours
Location: 303/4 Soi Sukhumvit 63 Click Map
Tel: 08-2022-5000
More info : facebook.com/PadThaiEkkamai
9. Blazing Pad thai (ผัดไทยไฟลุก)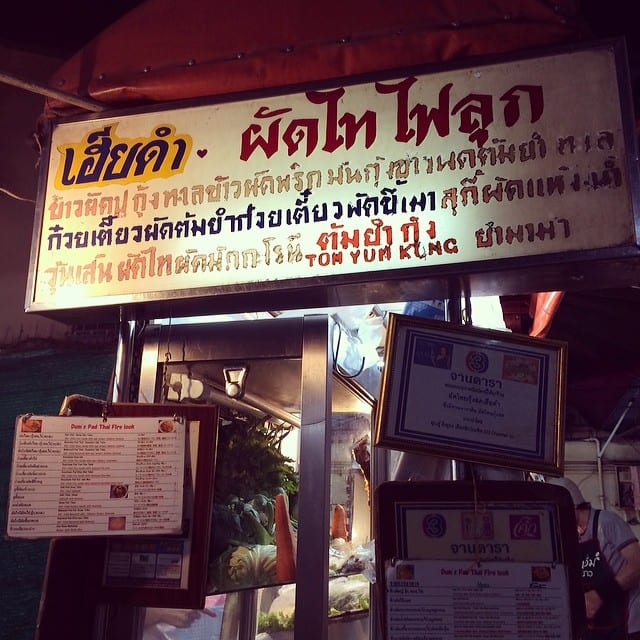 "Pad Thai Fai Look" or "(Flame) Blazing Pad thai" is located on the lively Sukhumvit road. The owner, "Hea Dum", cooks every dish by himself with the renowned cooking style – pan frying with flames. Locals and tourists come here for tasty food and to see his blazing cooking style. The menu is multiple languages, so no prolem for foreigners!
Opening hours: 7pm – 1am
Location: 32 Sukhumvit 38 Alley Click Map
Tel: 09-4485-8966
More info: facebook.com/BlazingPadThai
10. Krua Thai Makok (ครัวไทยบางมะกอก)
A Thai restaurant in "Ari" neighborhood that serves only authentic Thai food. People in the area describes them as a fresh fast food restaurant, where they go for a quick lunch break. They serve variety of menus, from curries to chili pastes, stirred fried dishes and noodles, but Pad thai is by far the most popular dish that is recommended by the locals.
Opening hours: 9.30am – 4pm
Location: 110, 11 Ari Samphan 5 Alley Click Map
Tel: 08-1345-9664
Due to the COVID-19 outbreak, all restaurants are opened for takeaway only