9 THINGS TO DO IN MAKATI IF YOU'RE ON A BUDGET
One of the sixteen cities of the Metropolitan Manila and one closest to the nation's capital, Makati is one of the busiest and most travelled to cities in the Philippines. It is comprised of large enterprises that makes it the country's most known central business district.
Think of it as a place where offices, malls, and leisure parks are all melded into one location. Locals and international travelers alike have come to enjoy the city with its diverse culture, different nationalities and unique spots.
Despite the luxury the city entails, one can still enjoy it even on a tight budget.
1. CHURCHES
Being a predominantly Catholic country, the Philippines is dotted with numerous churches that dates back to Spanish times and even modern ones, and Makati is one these places. You can do some self-reflection when you visit these places of worship in the Metro.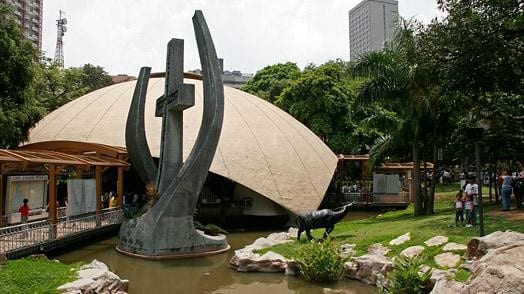 Greenbelt Chapel, nestled in the heart of the Greenbelt Mall complex, is one of the modern churches you can visit. If you are taking refuge from the concrete jungle, this is the place to be. With its lush gardens and ponds filled with Koi and other fishes, it is a sanctuary for the soul. Join Sunday masses or come in during the weekdays if you are in need of some soul searching.
Nuestra Señora De Gracia Parish is considered the oldest church in Makati and serves as a very well-known landmark for the locals. Established and completed by the Augustinian missionaries in 1630, the baroque church stood the test of time and still boasts of its neo-Romanesque-Gothic style up to this day.
2. STREET FOOD
Filipinos are very well known for their love of food. So, if you are new to the Philippines and able to visit a Pinoy household, it would be no surprise to hear the phrase "Kumain ka na ba?" ("Have you eaten?") after a greeting. Apart from hearty homecooked meals, this love of food goes beyond the kitchen and into the streets!
Street foods are very common that you may see them in every corner of the metro. You may try ihaw ihaw or barbecue like isaw (chicken innards), betamax (grilled blood), adidas (not the shoe! it's chicken feet) or just plain pork bbq. Fish and Squid ball carts are mainstays too. You may also try sweet treats like banana cue and camote cue, and the summer favorite halu-halo which literally means mix-mix.
You wouldn't miss this when you visit Makati and it's very affordable.
3. AYALA TRIANGLE GARDENS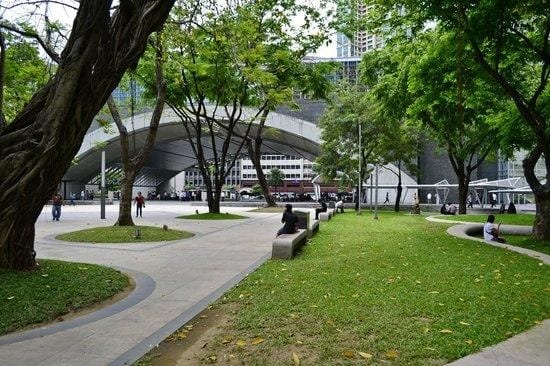 Walking around the bustling streets will make you want to take a rest somewhere cool. Ayala triangle gardens, as the name suggests, is a triangular garden located near the Makati thoroughfares Ayala, Makati and Paseo de Roxas Avenues. It is a greenspace in the middle of all the grays with tall trees for shade and benches you can relax in. The open courtyard boasts art pieces from some of the country's leading artists. One of the best times to visit is during their light shows in December. Entrance fee: FREE!
4. WEEKEND MARKETS
Time to go for some old school shopping with these weekend markets.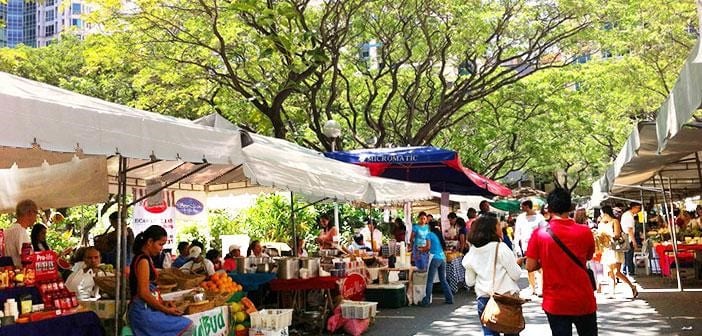 Salcedo Saturday Market
Established in 2004, this weekender market has been a staple in Salcedo Village. It's a great attraction for foodies and shoppers alike. You can find international cuisine options in here too like Indian, Vietnamese and Thai brought to you by the expat communities of Makati. There are also local offerings for food and beverage options. Artisan creations, handicrafts, jewelries and other trinkets can also be found in the Salcedo Saturday Market. It's open on Saturdays: 8:00AM to 6:00PM and entrance is FREE.
Legazpi Farmer's Market
A number of outdoor markets are in the Philippines and there are only a few ones where you can spot gourmet food, artisan creations, and Filipino delicacies like Legazpi Sunday Market. The market is open every Sunday in the parking lot of Legazpi Park. A perfect place for early risers to grab a snack or an after-church bite. Locally made products and homecooked meals really gives you a sense of being at home here, whether you're a local or a visitor. They are open every Sunday, from 8:00AM – 2:00PM
5. MALLING
Don't get me wrong here, you may say that going to the mall will be a splurge from the pocket but, no. An easy way to escape from the tropical heat is to go to airconditioned mall complexes in the city. SM is one popular chain of malls so it is not a surprise to find one in Makati. It houses popular western brands like H&M, Forever21 and more.
Another mall complex is Glorietta Malls located near Ayala Avenue. The mall used to be a park but now belongs to Ayala Center and spans five sections, namely Glorietta 1, 2, 3, 4 and 5. It's next to Rustan's Makati, The Landmark and SM Makati.
Greenbelt is also a shopping mall situated in the Ayala Center. It is a world class shopping and dining location which mixes indoor and outdoor spaces. You can find top international brands, high end boutiques and fine dining restaurants here and as mentioned above, this is where you can find Greenbelt Chapel.
6. JOLLYJEEP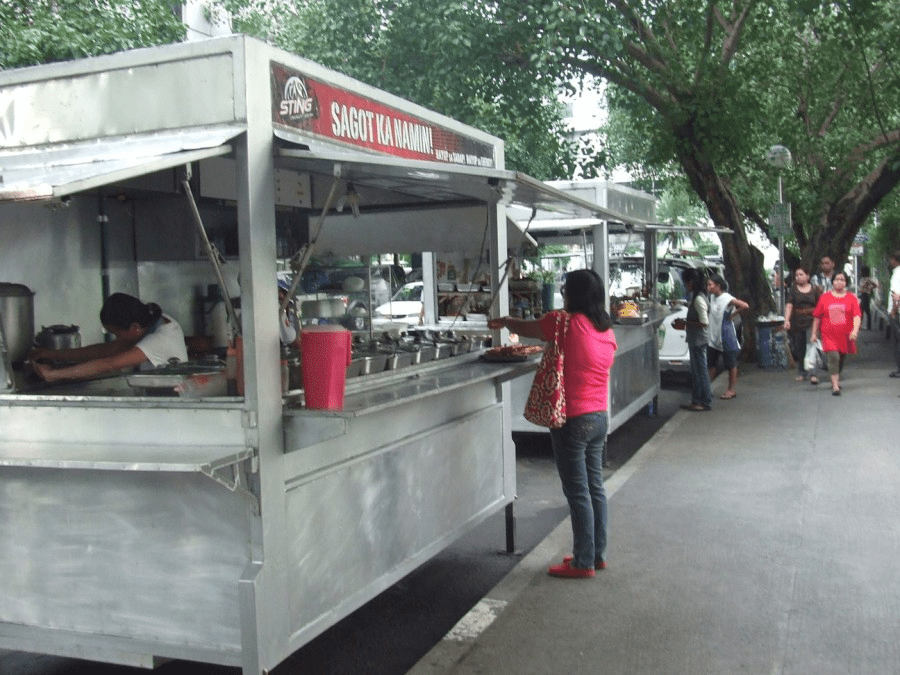 Karinderya is a small market or roadside restaurant or canteen where people can dine. Now, imagine a karinderya on wheels. That's jollyjeep for you! Serving you hot food cheaper than fast food outlets, jollyjeep is a quick dining option for those who are on the go and on a rush. Try the silogs or combination meals which you can buy below P80, together with a steaming bowl of soup for free. Snacks are also served here like banana and camote cue and turon. You can find jolly jeeps in most of Makati's streets.
7. GUADALUPE RUINS
You read it right. Ruins. In the city.
The Guadalupe Ruins can be found in the place where skyscrapers and car-filled roads abound. The ruins is a collection of centuries old churches dating back to the 1600s.
The Guadalupe Church is found in it and it has been seen a lot in Makati. Founded in 1601 by its namesake Senora Guadalupe, the church was overtaken during the Chinese uprising in 1635. It surpassed four earthquakes between 1649 and 1863 which compromised the churches' structure. It was then rebuilt as an orphanage in the late 1800s. With time passing together with its changes in leadership, economy, peace and conflicts, the church is a mirror to the past which makes it a place to visit when you are in the area.
8. POBLACION
You probably best know Poblacion because of the "Red Light District" but there is more in Poblacion than its past. The area is now a growing neighborhood of specialty restaurants, unique hangouts and bespoke concept bars frequented by college students, creatives, digital nomads, and in-the-know travelers. The nightlife on P. Burgos Street is something to look out for too!
9. STAYCATION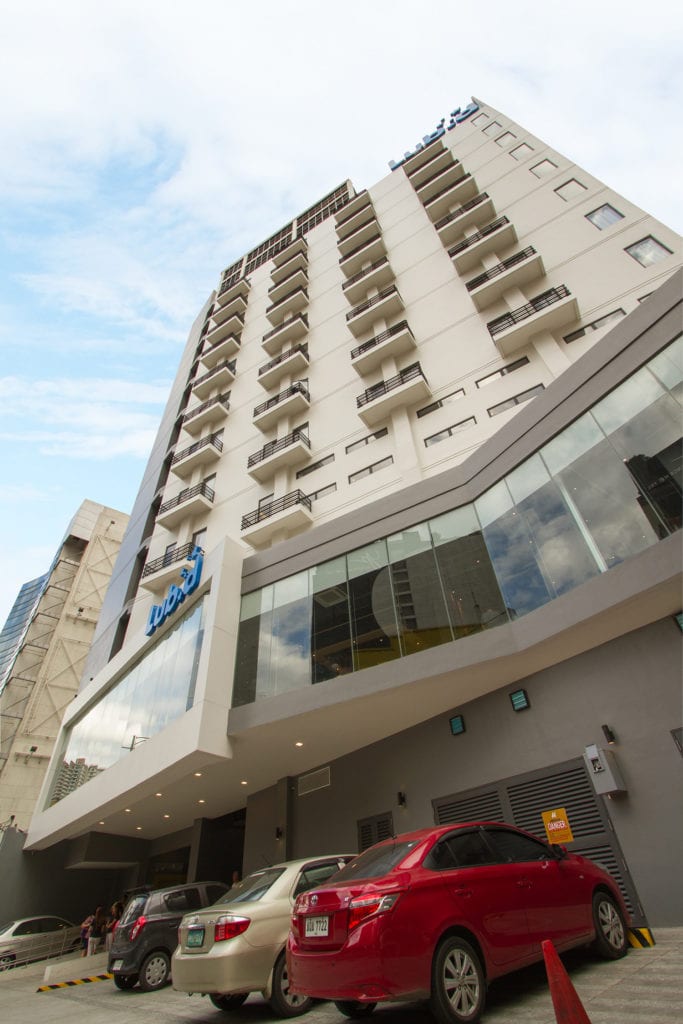 The whole of Makati is home to luxurious and ritzy hotels but it also houses plenty of affordable hostels and accommodations! You can check out Lub d Makati, the place to be when it comes to social hotels. Here you can mingle around with like-minded travelers and foreigners alike and enjoy activities to nurture your relationship with the locals!