Let's Go Island hopping Around Koh Samui
The beautiful island of Koh Samui in the Gulf of Thailand has it all, from stunning beaches, luxury villas to buzzing nightlife and night markets. While Koh Samui itself is one of the premier island destinations in all of Asia, there are many smaller islands that surround it that are equally incredible. Here is a short list of some of the best islands to visit that are close to Koh Samui.    
We'll start off with the busiest and most famous of all, Koh Phangan. Famous for its full moon parties and wellness retreats, Phangan is a highly frequented spot by young travelers coming to Thailand. There are plenty of ferry services and private speed boats to Koh Phangan from Samui. In fact, you can take a speedboat from the beachfront hostel Lub d Koh Samui to Haad Rin beach in Koh Phangan easily. If you're wondering how to get there, we got you covered here in How to Get to the Full Moon Party in Koh Phangan.
A highly secluded and exotic-looking island nestled inside Angthong National Marine Park, Koh Maekoh is another dreamy spot for snorkeling and scuba diving enthusiasts. It is a perfect spot if you want a glimpse of rare aquatic wildlife and beautiful tropical birds and is a great getaway destination from the noise of the bigger islands.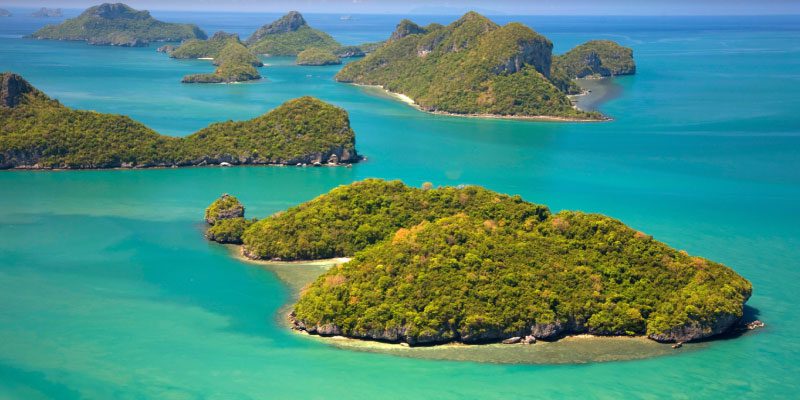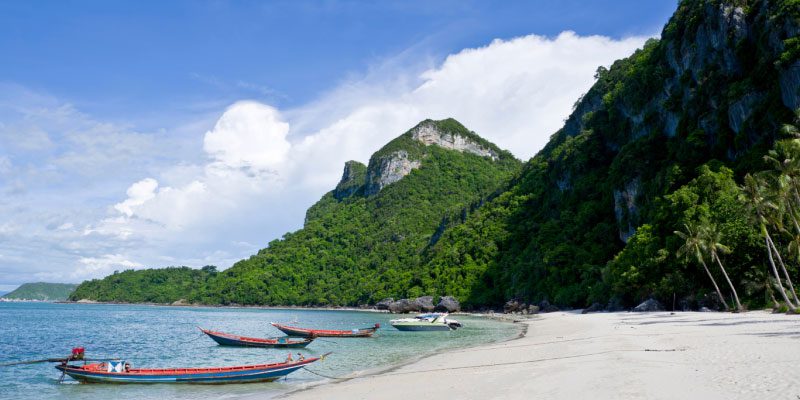 4. Angthong Marine National Park
Spanning an area of 102 square km and consisting of 42 small islands, Angthong Marine National Park is one of the most unique destinations to visit in Thailand. With picturesque, secluded beaches, limestone cliffs, and an array of marine life, this will definitely bring back your Discovery Channel-loving child in you. It takes between 2-3 hours depending on your choice of transport to get to the national park, and there is also an entry fee of 300 THB for foreigners and 200 THB for children.
Only about a 20-minute-long tail boat ride from Koh Samui is the tiny island of Koh Madsum. It is the world-famous pig island (paradise) for their human friends to come and visit. A wooden and hut-like restaurant on the island also serves Thai food, drinks, and healthy smoothies with a very chill atmosphere. It just can't get any better than sipping drinks, sun tanning, and chilling with the pigs!
Another quiet and tranquil spot off the coast of Koh Samui, Koh Taen is a lesser-known gem of an island. Hiking through the mangrove forests is a great way to spend your time here, not to mention the unbelievable snorkeling around its beautiful coral reefs. This island paradise is just 20 minutes from Samui and can easily be accessible via longtail boats.
     We really encourage you to visit all of the islands to fulfill your island adventure experiences! Lub d Koh Samui is the ideal place to base yourself, not just because of its famous pool party hotel right on Chaweng Beach, but it is also a socialized budget hotel where it is super easy to befriend like-minded travelers and ultimately make your island getaway experience heaps better!