The 3 Best Hostels in Siem Reap
Let's jump right into the boutique hostels in Siem Reap.
We put all three, you will find the map at the end of the article.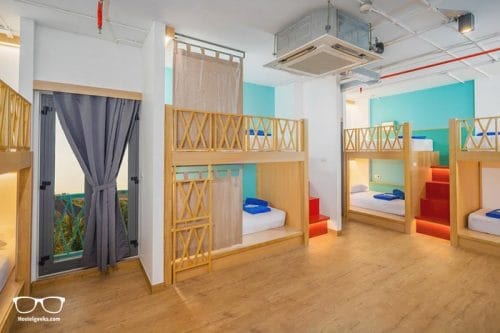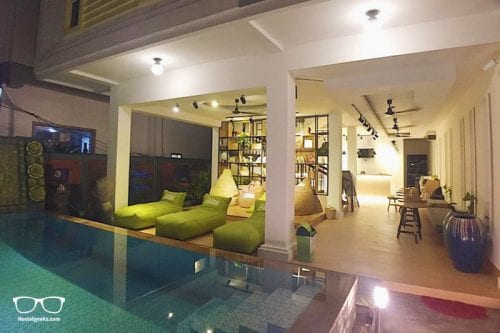 1. Onederz Hostel Siem Reap
Ladies and gentleman, we'd like to kick start this guide with the #1 hostel Onederz Hostel Siem Reap.
This pool party hostel is an easy choice if you like the sound of:
2 swimming pools – one on the rooftop!
A peaceful yet convenient location
Free airport pick-up (before 9pm)
On-site restaurant, cafe & bar
These are just a few of the enticing perks that make this hostel stand out from the rest.
In fact, it has won awards for being one of the best large hostels in the world, and is voted most popular hostel in Siem Reap.
We're not surprised! Top hostel Siem Reap has to offer!
Thanks to the large lounge area and pools, it's easy to meet people here. There's even a TV room where you can do nothing together.
Everyone is welcome and this is reflected in the room choices available.
Super cool: there is a 'sunrise breakfast' (4am-4:30am) for those heading out to watch the sunrise at Angkor Wat.
Dorms come with 4, 6 and 12-bed options, with an added 6-bed strictly for female solo travellers.
We are big fans of the private rooms. They're designed much like a hotel room, with a kettle and bottled water as an added extra. Oh and you get your own private bathroom, too.
Feeling sociable? Get your costume ready for a good ole pool party, or wind down at a movie night.
That being said, this is not classed as a party hostel. Instead, it is designed with socializing in mind.
Location: 5-minute walk to Pub Street, Old Market and Angkor Night Market. Pretty perfect if you ask me.
This is one of the best hostels in Siem Reap for
Female solo travellers
Backpackers
2. Lub d Siem Reap
Next up is the largest, newest and most modern hostel in the centre of Siem Reap; Lub d Siem Reap!
Honestly, this hostel recommendation ticks many of the same boxes as the first.
It's social, has a pool (just one though, sorry) and is located close-by to all of the main areas of the city. What more could you need?
Well obviously the design of this hostel is different. Perhaps it's more your style.
If you like the sound of a Khmer-chic inspired property, look no further!
There are a few added bonuses of choosing this cool hostel:
Games area inc. pool table
ALL-DAY breakfast in The Pump House Siem Reap
Co-working space ideal for bloggers/digital nomads
Helpful tour desk
As for the size; it's still big but not overwhelming.
The rooms come in three choices. There are two 10-bed dorms, one mixed and one female-only. Couples can opt for a deluxe private which comes with a fridge, air-con and smart TV.
Yet we strongly advise you to choose a dorm – the design is epic!
Huge spaces, stairs instead of ladders and plenty of light flooding in. There's a curtain for privacy and a personal light and socket for added comfiness. Sold.
Location: Once again, within walking distance of Pub Street, Siem Reap river & just 20-minutes from the airport.
This is one of the best hostels in Siem Reap for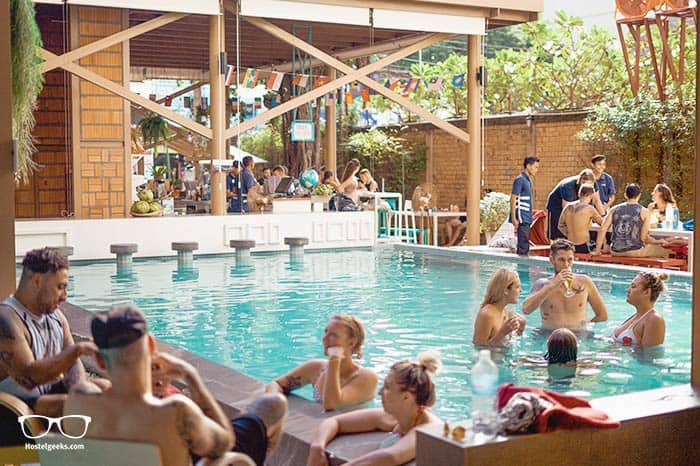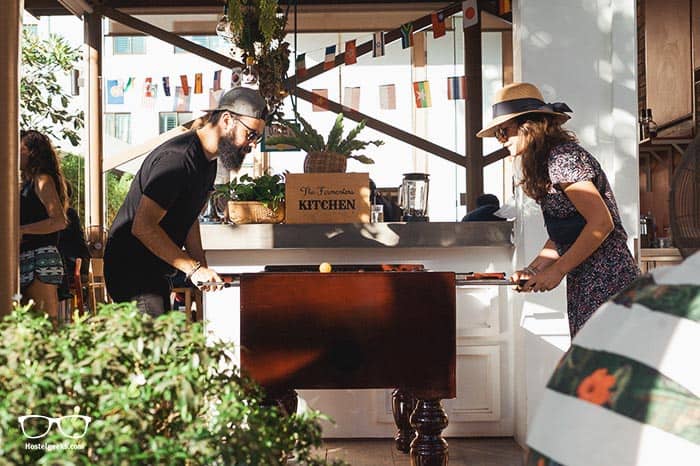 3. Cozy Cloud
No doubt the hostel name has given you a big clue as to what kind of hostel this is.
Forget a big party place that never stops; Cozy Cloud is, well, cozy! The casual social scene is one for older travellers, no doubt.
First of all, you'll be welcomed by smiley, multi-lingual and helpful staff – a great way to kick start your Siem Reap experience!
Don't be surprised if you see lots of cute cats running around, too.
Read: Pets at 5 Star Hostels
Whilst the dorms are basic, they do come with that all-important privacy curtain. Woo!
You can choose between 4, 6 and 8-beds. Female solo travellers have the added option of a 6-bed dorm and couples can book the king room with private bathroom.
So, what about the spaces? Wind down and enjoy a slice of paradise thanks to the…
Outdoor swimming pool
Numerous beanbag loungers
Cozy library
24 hour reception
Though breakfast is not included, there is a cozy breakfast and coffee available for a small fee.
Location: from here it's 7km to Angkor Wat and 12km to the airport. The famous Pub Street is less than 1km away, so walking there is easy.
This is one of the best hostels in Siem Reap for
Older travellers, meaning "adults" +35
Peace seekers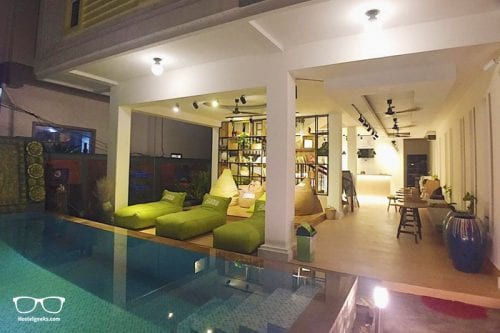 FAQ
Alright, you should have found your accommodation already. Below we list all the frequently asked questions. Have a look.
What are the best hostels in Siem Reap for solo travellers?
For female solo travellers: Onederz Hostel Siem Reap, because of the female-only dorms
For sociable solo travellers: Lub d Siem Reap, because of the bar & pool
For introverted solo travellers: Cozy Cloud, because it is small & has privacy curtains
Are hostels in Siem Reap safe?
Not all hostels in Siem Reap are necessarily safe, especially the one that offers the cheapest price in sketchy areas. It might be an illegal hostel, without proper license to run and safety measures.
So in all fairness, it is best to check out Hostelgeeks.com because we feature safe hostels in Siem Reap. You can find backpacker hostel with top ratings! Keep a close eye on the overall ratings on booking platforms!
If you are not secure, you can also send us an email and ask us!
What are the best hostels in Siem Reap?
You can find the best Siem Reap hostels in this article!
Onederz Hostel Siem Reap – best for female solo travellers
Lub d Siem Reap – top pick for couples
Cozy Cloud – one for older travellers
What is Siem Reap best known for?
Here's the list of Siem Reap attractions:
Bayon Temple
Ta Prohm Kel Temple
Pub Street Siem Reap
Angkor Thom
ANM Khmer Market