6 Trendy Places in Bangkok for Your Instagram Feed
Travellers to Bangkok most likely are already aware of the must-see and must-do things while visiting this vibrant city. Those include shopping malls, temples, famous markets, and food venues to get all that authentic Thai taste. But what about going a bit off the beaten track to some of most instagrammable places in Bangkok? Here 6 places worth visiting places to snap some great photos.
Lhong 1919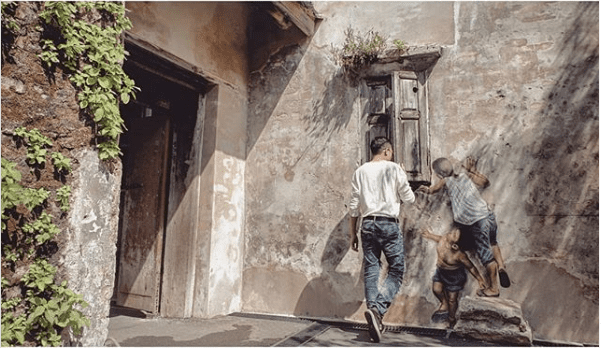 As the traditional Thai culture is a not purely Thai but more a unique blend of many other Asian countries, the highest influence is from Chinese culture. If you are one that love the charm of Chinese heritage and its historic vibes, Lhong 1919 is not a miss. Lhong 1919 is a port that was built back in 1850 located at Chao Phraya riverside, containing Thai – Chinese real historic art and architectural style.
When you're done with taking the snaps for your feed, options are available to enjoy eating at vintage design restaurants, exploring events, or shopping for cool souvenirs.
Getting there
Take the BTS Skytrain, get off at Saphan Taksin (S6) station, Exit No. 2, then you will find the Sathorn pier with free shuttle boats ride to and from the venue every 30 minutes.
Entry Fee: Free
ZY walk
ZY walk is a recently built mall that resembles a vintage Chinese village with Sino – Chinese style. It's not far from Siam Square area and MBK, and this place is not crowded (yet), but it's super cool. Not only artistic shots that you can take here, but you'll also have access to art exhibitions and chic cafes here. A useful note is that some parts are still under construction, so be careful not to go into the prohibited zone and follow the rules for your own safety.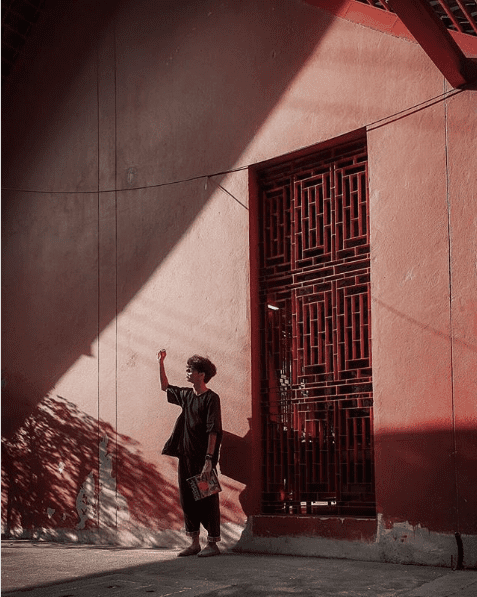 Getting there
Take the BTS to National Stadium (S1) station and walk about 10 minutes (around 1 kilometer). Look for I'm Park mall and turn right at a street next to the I'm Park mall.
Entry Fee: Free
Bangkok Railway Station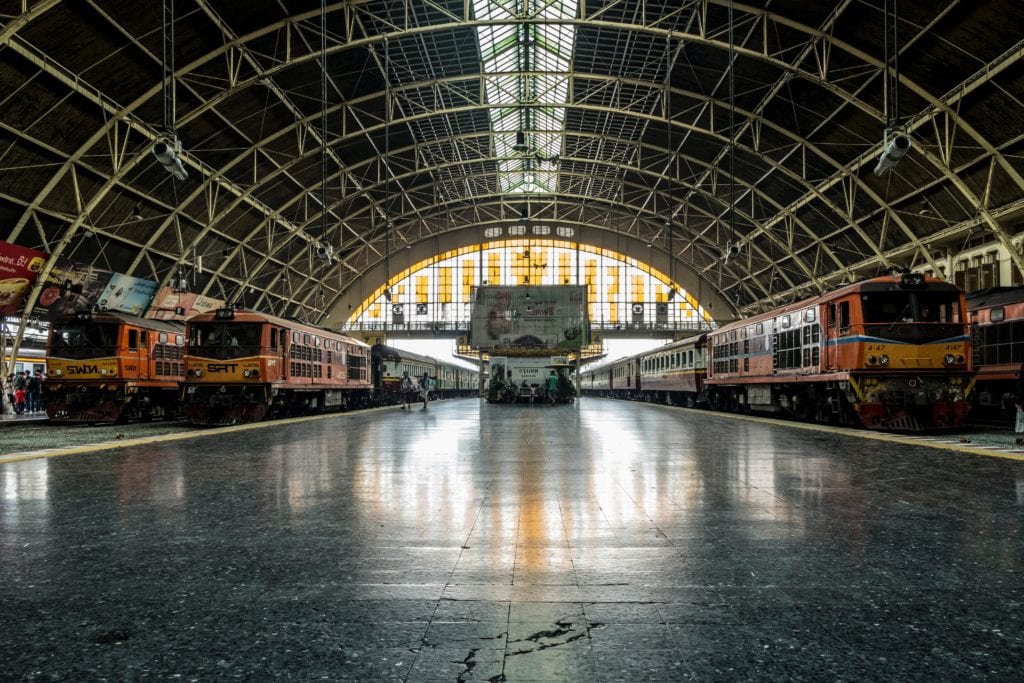 Hua Lamphong or Bangkok railway station is the main train terminal and the first train station of Thailand. Its importance isn't only to serve as the main terminal connecting all parts of Thailand, it also has been a popular and unique photography spot among both locals and foreigners for a long time. Here you will experience a half dome structure in an Italian neo – renaissance style, not to mention the real vintage trains that are still being used!
Getting there
Take the MRT (BL28) to Hua Lamphong station, follow the way to the Exit No.2 and you'll be in the first train station of Thailand!
Bangkok Grand Postal Building
You've probably never thought of taking cool photos at a postal building. Well, you might change your mind after reading this. Let me mention why Bangkok Grand Postal Building is worth visiting. During World War II, this building was built in a Brutalist architectural style. At the time of the construction, it was the period when Italian and German architects influences Thai architecture industry largely. Therefore, you can sense European architecture pretty much here.
The building is not an office of Thai postal anymore; instead, it became a venue for art exhibitions and events. If you are looking for a coffee break after walking around, there are cafe's and co-working spaces here too.
Getting there
You have 3 options to choose from:
BTS: Take the BTS to Saphan Taksin (S6) station, Exit No. 3, now you can either get there by walking – Walk along Charoenkrung Road for 900 metres (15 minutes) or by bus – Take the Bus No.1 or 75 for 2 stops, you will be right in front of Bangkok Grand Postal Building
MRT : Take the MRT to Hualamphong station (BL28) Exit No. 1, then take the Bus No. 1 or 75 for 2 stops, get off at Siphaya bus stop. Walk along Charoenkrung Road for 350 metres (5 minutes)
Boat : Take the Chao Phraya Express Boat to Siphraya pier. Walk along the way to Charoenkrung Road for 500 metres (5 minutes)
Entry Fee: Free
Chaloemla Park (Graffiti Park)
Are you picturing yourself in a cool street art in New York, Buenos Aires, or Sao Paolo? Bangkok might not pop up in mind art first but Yes, it is a thing in the very heart of Bangkok, only next to BTS Siam station and a few steps from the lovely Lub d Bangkok Siam.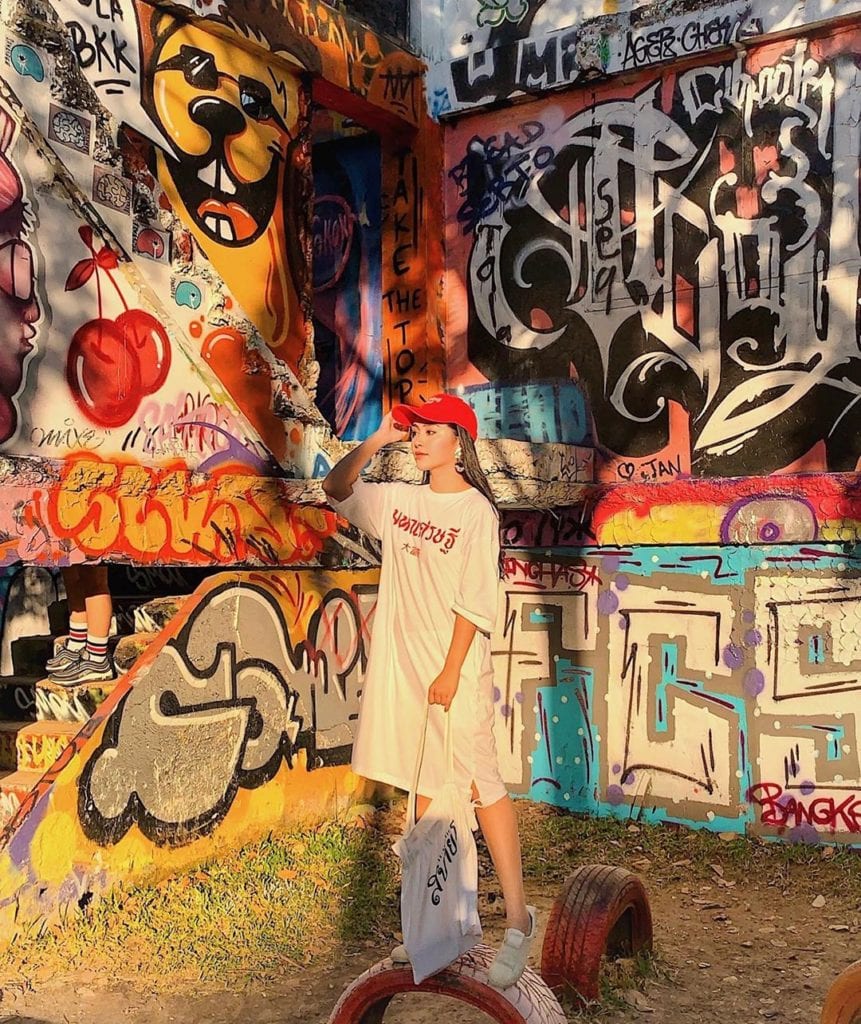 Chaloemla Park is an open green space where you will see a lot of bright and colorful graffiti on the building walls. It is definitely worth visiting for everyone who loves taking photos but if you have your heart for street arts, believe me, you don't want to miss this one.
Getting there
Take the BTS to Siam Station (CEN) then walk for about 750 metres (10 minutes) or Ratchathewi Station (N1) and walk for only 120 metres (2 minutes) to the park.
Jim Thompson House
Yep, that popular name Jim Thompson. You probably think of quality Thai silk products, but actually they also have lovely museums located at a walkable place from MBK mall. I guarantee you this place is worth visiting even if you are not a fan of Thai silk products.
The coolest thing about this museum is their traditional Thai house style. This style is rarely seen even for Thai people, yet that's not the only thing they offer. A wide range of vintage Thai products aged over 100 years from a simple piece of art to traditional Thai furniture are available for you to see and purchase as well. In addition, you can try the real taste of Thai food in a vintage Thai house style here too.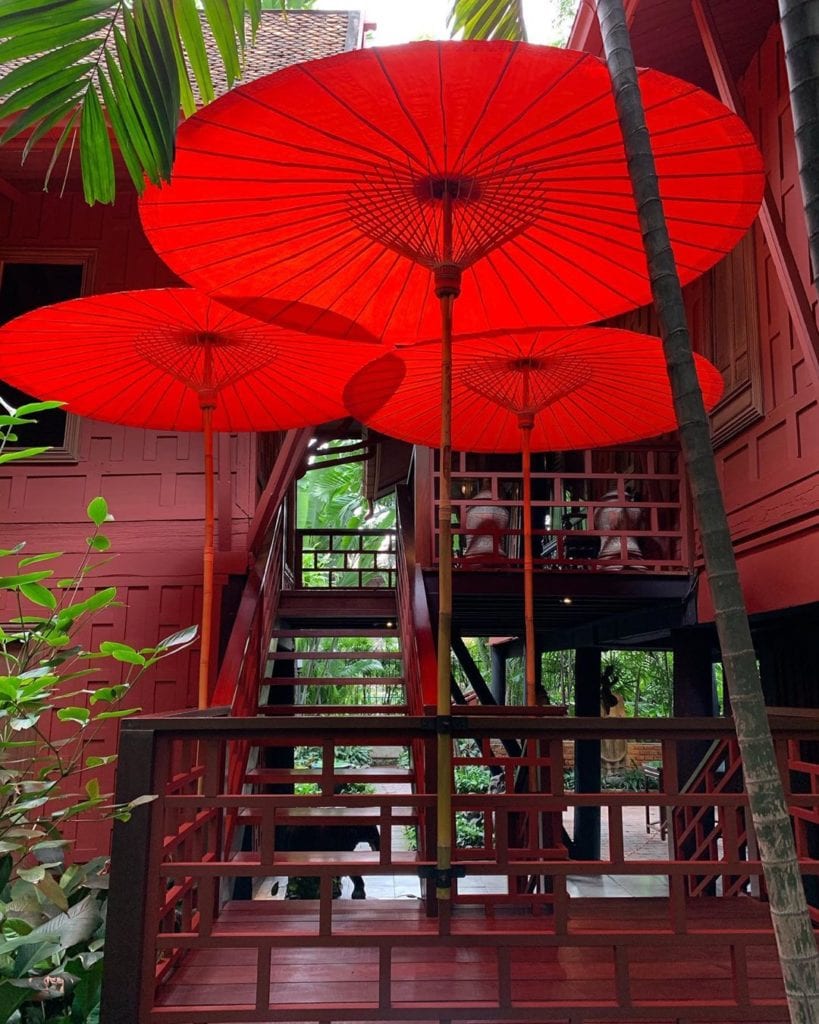 Getting there
Take the BTS to National Stadium Station (W1) go to Exit No.1 then walk along the way to Soi Kasemsan 2, the museum will be on your left at the end of the alley.
Entry Fee :
Adult : THB 200
Under 22 years old : THB 100
Under 10 years old : Free
I'm sure you have more ideas for your Instagram feed now. At least you'll get to discover and show off more places in Bangkok than the usual spots which are often too crowded. Show us some of your off the beaten track discovers and let us know by tagging us on Instagram!